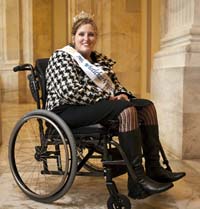 A new plaintiff is suing local businesses over wheelchair accessibility issues, but this one wears a crown.
Nicole Swann, who is the 2010 winner of the Ms. Wheelchair Virginia pageant, is the latest plaintiff to go after Richmond area businesses for not complying with access rules.
In February, Swann filed suit against Mom's Siam and Bonvenu restaurants in Carytown, Sticky Rice on W. Main Street and Southside Plaza shopping center. Among the complaints: a lack of accessible parking spaces, bathrooms, ramps and seating areas.
The passage of the American Disabilities Act in 1990 set standards that places of public accommodation had to follow in order to provide equal access to patrons. Twenty years later, some feel that compliance with the ADA is far behind what it should be — and they are seeking to change it, one lawsuit at a time.
For local businesses, ADA cases are a major hassle and an unexpected financial blow. The required improvements can costs thousands and sometimes tens of thousands of dollars, especially to bring older Fan-type businesses into compliance.
Swann did not respond to repeated requests for comment over several days. The head lawyer in her case, Stephan Nitz of the Florida-based law firm Schwartz Zweben, declined to comment when reached by RBS.
Gene Zweben, co-founder and partner of the firm, said the goal of the lawsuits is to improve accessibility for the clients.
"Clients contact us because they have problems getting into a facility. The final goal is for them to be able to utilize the facility," Zweben said.
Swann isn't the first wheelchair pageant winner to obtain legal representation from Schwartz Zweben, which has filed similar lawsuits across the country. Ms. Wheelchair Washington, Ms. Wheelchair Florida and other winners, contestants and coordinators have been plaintiffs in cases represented by the firm in several states.
Zweben said they have become popular with pageant participants primarily through word of mouth.
"We believe in what these individuals are looking for. A lot of them have issues with access," Zweben said.
In some cases, Zweben said, the firm sends a letter to the business before a lawsuit is filed in an attempt to resolve the issue without litigation.
"Some clients like to try and work it out, some others don't. It typically doesn't work," Zweben said.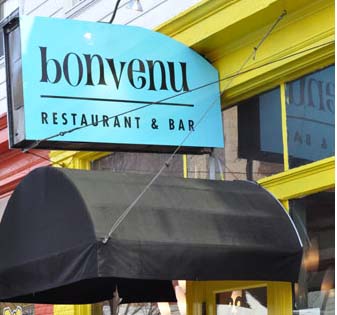 ADA compliance cases rarely go to trial, as most are settled.
"Typically what happens when we file a lawsuit on behalf of a client — we let the opposing counsel know that we want to get it done as quickly and inexpensively as possible," Zweben said.
Zweben said that after the suit is filed they will have an expert conduct an inspection and write a report. The report is used as the basis for the settlement agreement, which outlines what needs to be done over a certain time frame.
Plaintiffs are not entitled to damages in ADA cases, but they are entitled to legal fees. Zweben said the legal fees vary widely.
"If the defendant is agreeable, there is very little time involved and the fees don't run as high. If the defendant wants to fight and do that course and start engaging in discovery and so on, that can get quite costly," Zweben said.
In 2007, Zweben told the Baltimore Daily Record that the firm's hourly billing usually is between $260 and $285 an hour.
Swann is just the latest individual to bring an ADA case before the U.S. District Court in Richmond. Since 2005, Maryland-based lawyer Joel Zuckerman has represented a handful of serial plaintiffs in 114 ADA suits against businesses in the Richmond area.
In 2010 alone, Zuckerman filed 30 such cases in the Richmond District.
Before signing on with his current law firm of Maxwell & Barke, Zuckerman was an attorney for the Rockville office of Schwartz Zweben. BizSense first wrote about him in March 2009. (You can read that story here.)
Michael Chenail was Zuckerman's first local client and has been a plaintiff in eight ADA suits since 2005. He also runs a consulting business called Compliance Alliance. Most of his work comes from businesses that have been sued for ADA violations or sent a letter advising them that they face a suit if they don't make changes.
Chenail said that over the past few years, local businesses have become more aware of ADA issues as a result of the multitude of lawsuits being filed.
"Any cases I have typically been involved in, [the defendant] has received letters first. More of those letters are being responded to without having to go into litigation," Chenail said.
Chenail also said he has noticed that more properties have improved accessibility and removed architectural barriers on their own accord.
"I have seen improvements made at some places that didn't have anything to do with complaints or cases. There has been noticeable improvement in the Richmond area overall," Chenail said.
But the city and surrounding areas contain a stock of historic buildings that aren't in compliance with ADA regulations, and therefore serve as fodder for lawsuits. Many property owners mistakenly think that their property is grandfathered in.
Zweben said for facilities built prior to the ADA, there are still standards that need to be met. Property owners are required to make "reasonable" improvements to accessibility, no matter the age of the facility.
"Barrier removal is still required. It might not be able to be done today because of financial reasons, but it may be able to be done over time," Zweben said.
BizSense was unable to reach several of the defendant businesses named in the suits.