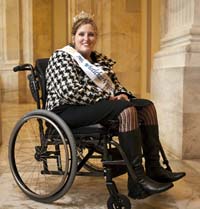 Yesterday's story on ADA lawsuits inspired a spirited response from our readers. Read the comments here.
BizSense finally caught up with the plaintiff in the cases, Niki Swann.
Swann is the 2010 Ms. Wheelchair Virginia pageant winner but said her suits have been filed on her own accord as a private citizen. Swann, whose spinal cord injury occurred in a motor vehicle accident when she was 16, was also recognized by the General Assembly this year with a joint resolution commending her advocacy efforts.
Below is a lightly edited transcript of BizSense's correspondence with Swann.
Richmond BizSense: Why'd you decide to take legal action against these businesses?
Niki Swann: Accessibility is an issue all over the country — not just here in Richmond. I've been to these places, and things that should be accessible under the ADA guidelines aren't. The issues with these places (restrooms) are easily fixable, and unless legal action is taken, they aren't taken seriously. I have written letters to places in other cities, and nothing ever happens.
RBS: What experiences have you had with other businesses in terms of accommodations and accessibility?
NS: Some places are worse than others. What some people may think is accessible really isn't for the person who needs the accommodation. I've been to places where I haven't even been able to fit in a bathroom or close the door. It's embarrassing, and those things need to change.
RBS: How did you first find out about your rights under the ADA? Is there a specific incident that made you pursue these cases?
NS: There are lots of incidents that I've encountered over the years that have been unfair — from parking to public transportation to the blocking of ramps by bicycle, lack of curb cuts, even the absence of ramps. Could you imagine not being able to go into a building with the rest of your friends because of something that you couldn't control? Over the years, as I've become more comfortable with my disability, I've decided that I need to know my rights.
RBS: Why not just take your business to places that are accessible?
NS: Accessibility shouldn't be the deciding factor about where I eat dinner or go out for a drink after work. I know it's hard to understand for a lot of people, because those doors (literally) are always open for them — how would it feel if they weren't?  It's about making my city more accessible not just for me but for others in the future. Change has to start somewhere.