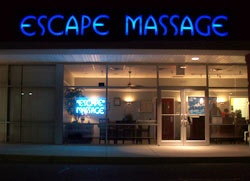 Local massage studio Escape Massage will open a third location this spring in Hanover County.
The company leased 3,000 square feet at Rutland Commons at Route 301 and Atlee Road and preparing to build out the space to open in April.
"There is no competition out there to speak of and a lot of our customers in Mechanicsville have been pushing us hard to go out there," said co-owner Mike Vines.
Vines, 63, opened the first location in Short Pump in 2007 with business partner George Nuckolls. They later opened a second location in Westchester Commons in Chesterfield County in 2009. He said he had been eyeing the Rutland location for more than a year.
Vines said multiple locations have always been part of the business plan, and that they hope to add more in the future. Vines said he is considering either within the city limits or in the Tri-Cities area.
"We are taking our time. We may not do anything, it depends on the economy. Although we've had our licks around here, we've never regressed. We've always treaded water or advanced," Vines said.
"We stay well booked, I guess people are pretty stressed out."
Escape Massage currently has 43 employees, including bookkeepers and receptionists. Vines said he plans to hire a staff of 12 for the new location to start, and eventually grow it to around 20.
"They have to give me a massage and I evaluate them," Vines said, "As badly as I need them I don't hire all of them."
The new location will have 10 massage rooms with two rooms for couples and two set up for expecting mothers. An hour long massage runs for $77, but are heavily discounted for members.  The company follows a similar model to Massage Envy, a national chain with two locations in the area with a third coming soon to Willow Lawn..
The massage business is a second career for Vines who ran a business detailing vehicle fleets and distributing truck bed liners for about 20 years.
"Honestly I shied away from massage like most men. A lady dragged me in one day and it was pretty nice," Vines said. "My other business was going through a rough time and I was depressed, things were slow. I was in a funk and needed something to shake me up."
Vines enrolled and graduated from the now closed Richmond Academy of Massage in 1997.
"I was the oldest guy in the whole school, I felt a little out of my element," Vines said.
But he was hooked and launched a small massage office as soon as he was certified.
Years later he came up with an idea to open a retail location in Short Pump and partnered up with his longtime friend, Nuckolls.
"We are very different people but we have the same values," Vines said, "I couldn't have done this with him."