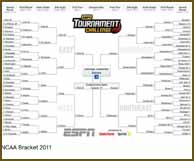 Office bracket pools have been turned upside down thanks to the University of Richmond and VCU's run to the Sweet Sixteen.
Some great statistics from ESPN show just how unlikely of a run this has been for Richmond's new favorite sports teams and just how bad it has been for bracket pickers.
Of the 5.9 million brackets submitted to ESPN.com's Tournament Challenge, not a single one of those brackets correctly picked all 16 teams that made it to the Sweet Sixteen.
Only 6.6 percent of those 5.9 million predicted Richmond would advance this far. VCU had even less support, with only 2.4 percent foreseeing the Rams' run.
Only 25,308 brackets (0.4 percent) predicted both VCU and UR making it this far.
How many of those brackets were likely made by locals?
The odds are stacked against the Spiders in their game Friday night against the No. 1 seed Kansas Jayhawks. And 94.6 percent of the country has KU moving on.
Only 0.5 percent of brackets have Richmond in the Elite Eight.
Only 0.3 percent of users predicted VCU would be playing Florida State on Friday. Sixty-seven percent of that 0.3 percent has the Seminoles moving on.
VCU has been defying the odds all the way through the tournament. Only 16 percent thought the Rams would win their game against Georgetown. Only 2.4 percent thought they could beat Purdue.
Now for the stat that most of the Richmond region hopes becomes reality: UR versus VCU in the Elite Eight. Only 1,886 brackets (less than 0.05 percent of ESPN.com brackets nationwide) predict that game will take place.
Taking it further, 54.7 percent of those 1,886 brackets chose the Spiders as the victor over VCU.
Surely most of those few hundred are UR students or alumni.
As for the odds of either local team making it all the way, only 0.1 percent of ESPN brackets nationwide have VCU in the Final Four. Zero percent chose UR or VCU for the championship game. In other words, even the most die-hard fans didn't think their team could make it to the final dance.
Read more of the stats here and here.
Michael Schwartz is a BizSense reporter. He'll be rooting on both teams Friday night now that Old Dominion is out.