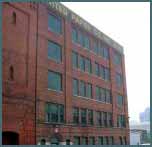 City & Guilds owner David Gammino is the latest developer to take a crack at an apartment project in Shockoe Bottom.
Hundreds of apartments are coming online in the area over the next couple of months. Undeterred, Gammino bought the a five-story warehouse at 1709 E. Clay St. for $1.5 million. It was previously owned by Bob Mills of Commonwealth Architects, which is also designing the project.
Work has already started on the 38 apartments, which Gammino said will be online by fall. There will also be 3,600-square-foot commercial space on the ground floor, as well as underground parking.
"It has one of the most breathtaking views of the city. It is further west of the other buildings there, so you have the view to the south and a view of downtown to the west," Gammino said.
Gammino said he is developing the $5 million project with a couple of private investors. StellarOne is financing it.
The project is the latest to be undertaken in the area. Several developers have new and renovated properties under construction or recently completed, including the Richmond Cold Storage complex by Historic Housing and the new Cedar Broad Apartments by George Emerson.
Gammino said he isn't too worried about there being too many other apartments in the area because he is aiming for the higher end of the market — renting units for between $1,200 and $1,500 a month.
"It is a moderate number of units," Gammino said. "I'm not concerned we won't be able to rent them up in the time frame we expect, which is three to six months."
Bruce Milam, a broker with Grubb & Ellis | Harrison & Bates, said that although the number of apartment projects in the area keeps climbing, demand hasn't seemed to diminish.
"You started adding it up, and there is close to 1,000 units emerging out of the pipeline all at one time over two years," Milam said. "That's a whopper."
Milam said that although the number of units keeps going up, vacancy for apartment buildings in the area has stayed at about 5 percent or 6 percent. Most of the demand is coming from the continued growth of the VCU School of Medicine.
"It appears if you build something decent downtown, it will fill," Milam said.