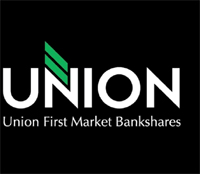 Union First Market Bank just opened a branch it built from scratch – an occurrence that has become rare in the past few years.
Richmond's biggest local bank recently opened its newest branch in Stafford County, just north of Fredericksburg. It's the bank's 91st in Virginia.
When the economy hit the skids and battered the bank industry, from-scratch branches across town became few and far between.
But Union and its $3.8 billion parent company, Union First Market Bankshares, remained profitable throughout the recession and had a good year in 2010, with $22 million in profits. That has given the bank the gumption to go into expansion mode over the past few months, but not necessarily by building brand-new branches.
"A new standalone branch is kind of unusual these days," said Union First Market spokesman Bill Cimino.
In December, Union acquired a branch in Harrisonburg from North Carolina-based NewBridge Bank. (You can read more about that acquisition here.)
Then in February, Union announced plans to expand its in-store branches at Martin's grocery stores in the western part of the state.
"From a branch acquisition point of view, we've been fairly active," Cimino said.
Construction on the Stafford County branch, which sits on Route 17, began late in 2010, Cimino said.
It's Union's 15th branch in the Fredericksburg region, and the bank believes Stafford County has room for growth.
"That section of Stafford has been growing and developing," Cimino said. "Even through the economy it's still a high-potential area for us."
The branch has six employees. It opened for business March 21 and will have a grand opening April 16.
Michael Schwartz covers banking for BizSense. Please send news tips to [email protected].