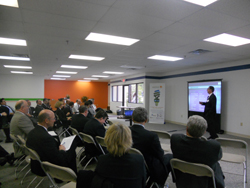 Five Israeli startups pitched their business plans to investors and local officials in Richmond.
The companies were hosted by the Dominion Resources GreenTech Incubator and presentations were made Wednesday morning at its facility in Ashland.
The presenting companies were narrowed down from a field of 30 companies that were interviewed by incubator members during a visit to Tel Aviv in January.
The Dominion GreenTech incubator seeks to mimic the success of the Virginia BioTechnology Research Park, which has brought several Israeli companies under its roof.
"The experience we have had with Israeli life science companies over the past four and a half years has been exciting and mutually rewarding," said Bob Skunda, president and CEO of the biotech park and chairman of the green-tech incubator. "We hope to replicate that into a robust, sustaining relationship with companies, research centers and governmental organizations in Israel involved in the alternative energy and green technology sectors."
More information about the presenting companies can by found here.