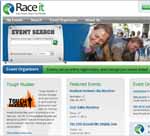 Slow and steady wins the race, but not for locally based RaceIt.
The company was born in 2004 to give Monument 10K racers a way to sign up online. So if you are one of the more than 40,000 runners who've signed up to jog down Monument Avenue on Saturday, you used their product.
Sine then RaceIt has grown into one of the biggest race registration systems in the nation, and the online software will sign up close to a million people this year.
Back in 2004, Sports Backers, which organizes the Monument 10K and other local sporting events, looked to the Richmond-based company Ironworks to build a better online registration system.
"Sports Backers was having issues with its online registration program," said Eric Cone, president of RaceIt.
Word spread through the tight-knit race community, and other groups wanted in on the system. Cone was brought in by Ironworks investor Karen Booth Adams to turn the system into a full-on business venture. Prior to that, Cone was working for Booth Adams's e-commerce company PoshTots.
"For the last four years, that is what I have done," Cone said.
He said that in 2007 the company was handling 50 events at most, many of which were for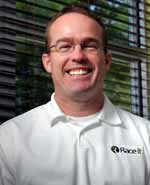 Sports Backers. This year Cone said the company expects to handle registration for 3,000 events across the country. RaceIt has 15 employees and a 3,000-square-foot office just outside of Innsbrook.
The company charges a small fee for each registration. Cone said some race organizations cover the fee while others pass some or all of the fee to the registrant.
Cone said RaceIt specializes in the endurance sports market, which includes running, biking and other adventure sports.
"That is sort of our core and what we go after," Cone said.
Cone said his company is in second place in their niche market, behind Active.com. That company has been in business since 1998 and is considering going public.
Booth Adams, a serial entrepreneur who has helped start or fund other local businesses, said she decided to invest in RaceIt as a standalone business because race organizations outside of Sports Backers started to request it.
"We had several other race organizers contact us as they had heard about the registration engine we had built," Adams said. "As we talked with them and listened to what they were looking for, we found that the registration engines they were using weren't satisfying the needs they had."
Adams said RaceIt is easier to use and has a cleaner interface than other systems. Clients also like that they don't sell information to competing races, she said.
Adams's investment has turned out to be a good one. She said the business has grown 400 percent in the past year and is expected to grow the same amount this year.  Much of that growth is coming at the expense of RaceIt's main competitor.
"RaceIt is winning a lot of business from their clients," Adams said. "We just went through the business development report and most of the events coming onto the RaceIt engine are leaving from Active.com. And we are happy to have them."