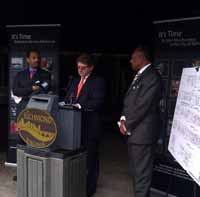 Two developers are about to start rehabilitating a pair of blighted retail buildings on East Grace and East Broad Streets with some financing from the City of Richmond.
Developers Ron Hunt of Hunt Investments and Mike Glass of the Becca Group have partnered to make over 213 E. Broad and 214 E. Grace into 24 apartments and 3,000 square feet of commercial space geared toward area artists.
The $3.6 million project is supported by a $200,000 loan from the city though its ArtBusiness Richmond initiative. The rest of the financing comes from Virginia Community Capital.
Mayor Dwight Jones and economic development administrator Peter Chapman announced the project Wednesday.
"We know this particular artery needs a lot of attention," Jones said.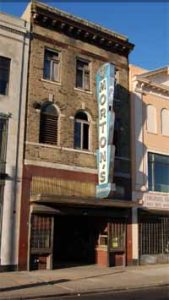 The building, which most recently was a jewelry store, is situated within the mayor's proposed arts and cultural district. It is directly next to the Central National Bank building and surrounded by several other properties owned by Washington developer Douglas Jemal. The city is pushing Jemal to clean up his portfolio of buildings in town and to bring them up to code.
"I hope we'll have many more days like this until we get rid of all of this blight on Broad Street," Jones said.
Co-developer Mike Glass said he had been eyeballing the property.
"I first walked this building in 2009," Glass said.
Deal-making for the current project began in September, he said. Rehab construction is scheduled to start in June and last about year.
Glass most recently developed the Lofts at 1723, at 1723 Summit Ave. in Scott's Addition. Ron Hunt, the other developer in the deal, has developed numerous other properties, including the Broadway Place apartments a few blocks further west on Broad Street. He is also beginning development of the 700 Centre building on Franklin Street into apartments in partnership with Virginia Beach-based Armada Hoffler. (Read more here.)
The project will include 24 residential apartments (studio, one-, two- and three-bedroom units) renting for $600 to $1,400, and so-called "live/work/retail" space geared toward artists with frontage on Broad and Grace. Those commercial spaces will rent for between $600 and $1,100 a month.
Peter Chapman, chief administrator of economic development and planning, said the city loan is to support the acquisition of the property. The loan of $200,000 has a term of 18 to 24 months and an interest rate of 4 percent.
"The loan is not a grant," Chapman said. "Once the money is repaid, with interest, it goes back into the revolving loan fund."
Learn more:
Richmond mayor proposing 65-block arts district (Times-Dispatch)