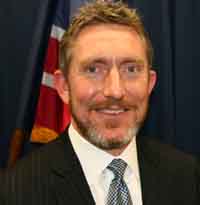 The city of Richmond has a new head of economic development.
Lee Downey, a vice president at an architecture firm in Ashland, Thursday was named the city's director of economic development. He will begin serving in his new post May 2 and takes over a department that has not had a leader since September 2009.
Downey, 41, is a University of Virginia graduate who grew up in Colonial Heights. He's no stranger to economic development or the public sector. Prior to stints at architecture firm McKinney & Co. and McGuireWoods, he was a business development manager at the Virginia Economic Development Partnership.
The position has been empty since Carthan Currin III left in late 2009.
"I've been on both sides before," Downey said when reached by phone from his office in Ashland.
"I live in the city, and my career has been in economic development," he said. "This is an opportunity to do what I love for a place that I love."
As for any big plans or big ideas he'll bring to the table, Downey said he'll have to wait until after his first day on the job to get into anything specific.
"To be honest, I really need to get my hands around the entire picture," Downey said. "I need to get an overall picture of the department and the city. They have a lot of exciting things going on."
Along with Downey's appointment, the city Thursday announced that it had filled two other vacant administration positions.
Eric Tucker will take the role of deputy chief administration officer of finance and administration beginning April 25. Tucker was previously director of finance for Prince George's County, Md., and in Detroit.
Norman Merrifield will take over as director of parks, recreation and community facilities May 25. Merrifield previously was the administrative executive officer at the Cincinnati Recreation Commission and the director for parks and recreation for the city of El Paso.
That still leaves a vacancy at the head of the city's planning department, a void created last month by the resignation of Rachel Flynn.
Michael Schwartz is a BizSense reporter. Please send news tips to [email protected].