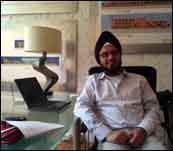 A framed magazine cover featuring a fresh-faced Justin French sits on a pile of clippings of the floor of his former Shockoe Slip office.
A large designer conference table still sits on the third floor. Satellite photos of Richmond's neighborhoods — Scott's Addition, the Fan — cover an entire wall of the room. Perhaps the same room where French dreamed up parts of his multimillion-dollar tax credit fraud.
Now all those decorations belong to the building's new owner.
"I really like the maps," said Inderdeep S. Huja, who now owns 1314 E. Cary St.
Huja isn't so sure about what to do with the framed news clippings highlighting the better moments of French's career.
Huja runs Emerge Systems Inc., an 11-year-old industrial engineering firm. The firm also has offices in Delaware and Maryland and 20 employees, a dozen of whom are in Richmond. Huja said that he is planning on hiring a few more folks and that he had ran out of space at a Church Hill office.
"We did really well through the downturn. The recession didn't seem to affect us," Huja said.
That's because the company was able to pick up work in the government sector, mostly designing systems for wastewater treatment plants, Huja said.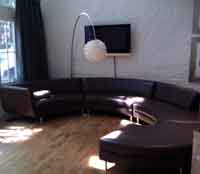 "We actually grew 20 percent last year in revenues," Huja said. "Now we are gearing up for an industrial comeback."
Huja said his real estate broker showed him the building. And he really liked it. Best of all, it was came stocked with modern furniture such as desks, chairs and a huge circular leather sofa. Huja bought the building for $640,000 from Virginia Business Bank, which foreclosed on French last September.
"Half the attraction was that as a small business I could move in as is and have reasonable furniture to augment our work," Huja said.
The three-story office covers 6,100 square feet.
Huja said that the sale contract promised all of the contents to the buyer. But then the feds came knocking.
According to French's plea agreement, he agreed to forfeit his personal property to go toward paying $7 million in restitution to his victims. Huja said U.S. Marshalls came to pick over the contents of French's office but ended up only taking artwork.
"The artwork was the most valuable thing they felt they could recover money from," Huja said.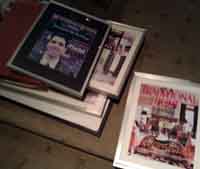 The furniture would be too costly to move and keep in storage until it could be auctioned off. If it didn't fetch enough at auction, then it would end up being a big loss.
"The feds were sensible and very professional and courteous to us," Huja said. "Impressive, actually, in looking out for the taxpayer. It gave me hope that the government actually works."