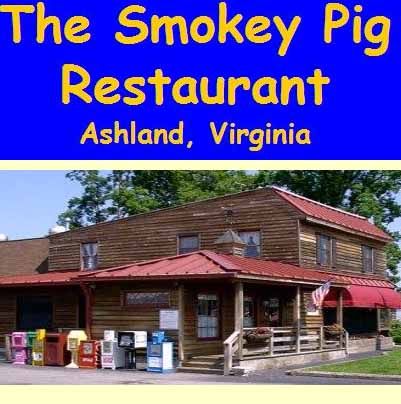 A shuttered Ashland barbecue restaurant has filed for Chapter 7 bankruptcy.
The Smokey Pig, which shut down last September, was facing more than $600,000 in debt, according to bankruptcy documents filed Tuesday. (You can see the full filing here.)
The restaurant, owned by Robert Jeffers and his family since 1978, owes $300,000 to local community bank EVB, $230,000 to the IRS, $80,000 to the Virginia Department of Taxation, $13,000 to the Virginia Foodservice Group and thousands more to dozens of vendors.
According to several news reports last summer, the Smokey Pig had a staff of 32 and was hit hard by the recession.
Smokey Pig's website is still live, however, and shows a brief message about its demise: "It has been a pleasure to serve the Ashland & Richmond communities for the past 32 years.  It is with great sadness that we have to report that The Smokey Pig Restaurant is now closed."
The Smokey Pig is being represented by local attorney Kenneth Paciocco. He did not return a call by press time.
Michael Schwartz is a BizSense reporter. Please send news tips to [email protected].