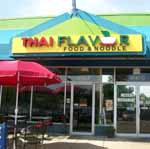 A Thai couple has brought a taste of their hometown to Glen Allen.
Penphicha "Penny" Umphol and her husband, Krit Meriprasert, recently opened Thai Flavor Food and Noodle in the Innsbrook Shoppes on Cox Road.
They each had more than five years of experience in the restaurant business, but early this year they decided to branch out on their own.
"He loved to cook, and I wanted to have my own business," said Umphol, 47.
The couple is from Bangkok but been living locally for the past 10 years.
They both spent their time here working as chefs for Tara Thai, a Thai chain with 11 locations throughout Virginia and Maryland.
"I worked at the Richmond location for five years, and my husband worked at the Charlottesville one for eight years," said Umphol.
The couple lives in Short Pump and commuted each day, but in January Umphol decided it was time for something new.
"The owner is our friend, and we liked it, but we wanted to open our own business," she said.
Umphol and her husband began looking for a place to open their own restaurant.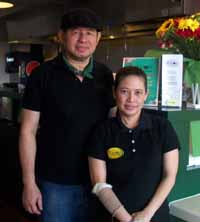 They decided on the Innsbrook Shoppes in Glen Allen to be closer to home and see what the retail scene was like.
In July, they leased a 1,200-square-foot space between the Beach House Bar and Grille and Mexico Restaurant.
The restaurant is in the space that was formerly occupied by Pita Pit, a national chain that closed its Richmond location last year.
After about seven months of redesigning the place and a $90,000 investment, the couple had Thai Flavor up and running by the end of March.
Umphol said business has been good.
"Weekends are busy, and at lunch there are a lot of people," she said.
"Dinner is a little slower."
Umphol said she hopes to build her business through word of mouth and have a website put together by next month.
Although there are other Thai restaurants in the area, including Thai Diner and Tip Thai in Glen Allen and Tara Thai in Short Pump, Umphol said she's not too worried about the competition.
"I get satisfaction from serving my customers," said Umphol. "I plan to keep on serving the best traditional Thai food in the area."