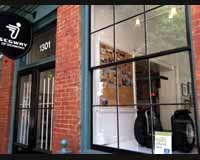 The next stop on a Segway tour of Richmond might be the city courthouse.
A Shockoe Slip Segway dealer has been sued three times since January – including twice in the past few weeks – by customers who claim that they were injured while riding the unorthodox vehicles on tours of Richmond.
Buck Ward, the owner of Segway of Richmond, said his company has liability insurance to help protect against claims and lawsuits, but that coverage doesn't come cheap.
"It is both difficult to get and very expensive for a small business like ours," he said in an email to BizSense.
And regardless of the outcome, fighting three suits at once is a major headache.
"It is very difficult and very expensive," Ward said.
According to a Toronto injury lawyer, the suits, all of which were filed in Richmond Circuit Court, describe alleged instances of the Segways lunging or lurching despite the riders' attempts to control them. The incidents, which all occurred in 2009, resulted in alleged injuries and related hardships to the tune of a combined $6 million.
Plaintiffs Jenny Honeycutt, Jeffury Whitt and Marge Pritchett each say that Segway of Richmond was negligent and reckless for allegedly not training the riders on how to handle the vehicles under certain conditions.
Each of the plaintiffs is also suing Segway Inc., the New Hampshire-based manufacturer of the vehicles.
The suits hinge on a common allegation that there are inherent, known glitches in the vehicles that can cause accidents.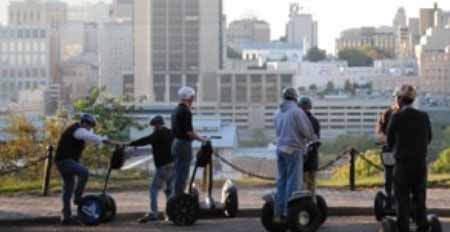 "As Segway manufactured more and more product units, it amassed a database of accidents and incidents related specifically to software and battery malfunctions," the suit filed by Jenny Honeycutt claims.
"Segway nonetheless continued to manufacture product units with little or no changes to either the vehicle software or battery specifications that would enhance a rider's ability to control the Segway and would prevent abrupt and unexpected starts and stops."
The suits contain similar language.
Honeycutt is represented by Thomas Stokes of Brenner, Evans and Millman
The other two plaintiffs are represented by James Thorsen of Marchant, Thorsen, Honey, Baldwin and Meyer.
Mike Ward, an attorney with Morris & Morris who is representing Segway Inc., would not comment on the suits.
Buck Ward said he couldn't comment on the specific cases.  But Ward, who responded only to emails, said safety is a priority.
"There is nothing more important to Segway of Richmond and its employees than our customers' safety," he said.
Since Ward opened Segway of Richmond in 2008, the company has given tours to more than 12,000 people without any injury or incident, he said.
"Over the past three years since opening, we have had solid, substantial growth year over year which we think reflects the care and attention our company and our guides place on our customers' safety and in creating a fun and memorable experience," Ward said.
Ward said customers who ride the gyroscopic vehicles sign waivers and releases of liability and are required to wear helmets. He also said riders are given the chance to ask questions about using the vehicles and about the risk of potential injury.
The suits, however, question the shop's pre-ride regimen. Honeycutt's suit claims the session did not include specific training for riding on "different texture surfaces, or going up or going down hills, ramps or inclines or for maneuvers in case of an emergency or malfunction."
Segway Inc. and Segway of Richmond have denied the allegations in the Pritchett case, the oldest of three suits. They have not responded to the others.
Michael Schwartz is a BizSense reporter. Please send news tips to [email protected]