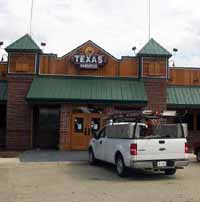 A Kentucky-based chain is bringing a taste of Texas to Chesterfield.
Texas Roadhouse is expected to open in the Chesterfield Plaza Shopping Center on Koger Center Boulevard in June.
Plans for the steakhouse have been in the works for over a year, said Dave Petras, a managing partner at the new location.
"We thought we'd do really well in this market," Petras said.
The Louisville-based restaurant has 347 locations in 46 states. This will be the ninth Texas Roadhouse in Virginia and the second in the area. One opened in Glen Allen in July 2001.
Petras said many Chesterfield area residents who frequented the Glen Allen location had been asking for a closer location.
"This side of town needs a new steakhouse," Petras said.
Construction began in January for the 6,600-square-foot restaurant, which was a Hops Grill and Brewery before it closed in December 2009.
Jim Farruggio, a manager at the chain, said the Glen Allen location's strong performance encouraged them to expand the concept.
"Chesterfield County is a high traffic area, and there was strong demand from guests," Farruggio said. "It seemed like a no-brainer for us to go there."
The Chesterfield Texas Roadhouse will join fellow steakhouses Outback and Ruth Chris in the area.
The country-western themed restaurant invested about $3.7 million. Petras said he's looking to hire about 165 employees.
Farruggio said plans for a Texas Roadhouse in Colonial Heights are underway and that it should be up and running by October.