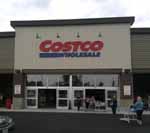 Now that Costco has moved into its new 150,000-square-foot store on Mall Drive in Chesterfield County, its developers are working on finding it some neighbors.
Jeff Galanti, a principal of the Riverstone Group, said they are close to striking two deals for out-parcel space and are in talks for at least six others. They are marketing seven out-parcels between one and two acres in size. A deal with an apartment developer to build up to 400 units is close to complete.
Galanti said they are building an extension to Mall Drive that will connect Midlothian and Robious roads, which they will dedicate to the county when it is completed in August.
Galanti said they are not fazed by the retail vacancies that have affected the area.
"If anything, this will help that. We will be bringing a lot more people to this area," Galanti said, referring to the apartments.
Costco is also a major draw, attracting people from outside the area.
The bulk retailer's move to the area last week has been several years in the making.
The company had a deal to sell the land to a Milwaukee developer in 2005. That developer planned to build a new store for Costco along with the rest of the 80 acre site. They had the property rezoned, but when the economy tanked, the Milwaukee developer backed out.
That's when Riverstone decided to pick up where they left off. Galanti declined to say how much they are investing to develop the site.
"You can't pass up an opportunity like Costco. It might be years to get another opportunity like this," Galanti said.
Costco has its previous location on Hull Street Road up for sale. The retailer wanted a location that could accommodate gas pumps. The new store is also 30,000 square feet larger.