A fast-growing construction firm will double the size of its office when it moves from Innsbrook to Shockoe Bottom on June 1.
Team ACP Construction founder Sylvester Clay said that growth prompted the move from an office on Sadler Road to a newly renovated, 6,000-square-foot office at 16 S. 17th St.
"We looked at a lot of different office space, but it was very important as a minority business owner to move back to the city," Clay said.
Since starting in 2009, the company has carved out a niche by specializing in medical construction. In the process, it built up a healthy book of business as area hospitals have expanded in recent years.
"This month we will have closed on $10 million in business," Clay said.
After years of working in residential construction, the housing bubble pushed Clay to search for other opportunities. That led him to Virginia's program for small, women- and minority-owned businesses. An executive order issued by former governor Tim Kaine sets a goal of 40 percent of contractors doing work with the commonwealth to come from such businesses.
That gave Team ACP the edge in securing its first job, a $140,000 contract to renovate the dialysis wing at a VCU Health System hospital, Clay said. Over the next eight months, Clay said his firm ended up completing $1.2 million worth of additional projects for the hospital.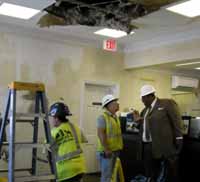 "What we did is recognize a real niche in health-care construction. Not anyone can just go out and say, 'I'm going to work in a hospital,'" Clay said. "It took a lot of training and discipline."
The company went on to do work for the University of Virginia, Hampton University and Old Dominion University. The company plans to start work soon on a $7 million renovation of the gymnasium at Howard University in Washington.
The company has also stepped out into the private sector, picking up work with HCA Health Care to renovate a wing of the John Randolph Medical Center in Hopewell. And the firm was is among the contractors helping renovate and restore the 234 Wells Fargo in Virginia branches as they transition away from the Wachovia name.
Clay said the firm has about 50 employees.