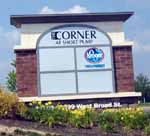 A local real estate firm bought a retail development in Short Pump and plans to start construction of a second phase this month.
The Rebkee Company recently purchased The Corner at Short Pump from the Archon Group for an undisclosed amount. The 41-acre site is anchored by a newly-built Kroger grocery store, which is currently the only tenant of the development.
Dan Hargett, a principal at Rebkee, said the two parties first chatted about the deal last year when Archon, a subsidiary of Goldman Sachs, decided it wanted to sell the property. Rebkee had been employed by Archon since 2007 to manage the construction.
"It is a good project for us and something we are pretty excited about," Hargett said.
As part of the second phase, Hargett said, Rebkee will develop 125,000 square feet of retail space. Several tenants are in line to take up 85,000 square feet. Those retailers include Olive Garden, Bassett Furniture, Select Comfort and a combined Toys "R" Us/Babies "R" Us. Cushman & Wakefield | Thalhimer is handling leasing for the development.
Hargett said the project should be ready to open during the first part of next year.
"We started moving dirt on the site this week," Hargett said.
L.F. Jennings is completing the site work, and the company is finalizing a deal with a local general contractor to complete the new retail buildings. Hargett said the new construction will be a combination of inline retail and freestanding stores.
The project also has a residential component, composed of 72 townhouse lots. Hargett said there are no immediate plans to develop that portion.
"The focus is on retail and getting new tenants into the market," Hargett said.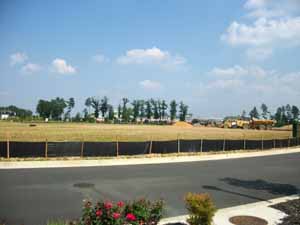 Rebkee, which was founded in 1991, has its headquarters near the intersection of Midlothian Turnpike and State Route 288. The company has developed or acquired more than 4 million square feet of commercial property since its inception and owns several centers, including the Shoppes at Westchester and Willow Lawn Plaza.
The initial plan to develop the property was delayed by about a year. Archon cleared the land in 2008, right around the time the recession killed any momentum for developers. The Kroger was slated for completion in fall 2009, but work stalled, and the store did not open until the end of last year.
The development of the Corner at Short Pump will add more retail square footage in one of Richmond's fastest growing commercial strips. Retail vacancy in the area is on the decline, coming in at 4.6 percent in the first quarter of this year, compared with 5.2 percent a year ago, according to market reports from Thalhimer.
Incoming tenants might also stand to take advantage of falling rental rates. According to Thalhimer, the average price per square foot for Short Pump was $21.85 in the first quarter. That is down from a year ago, when retail space was $26.21 per square foot in the area.