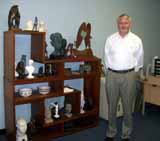 Creating replicas of major sculptures might be a niche business, but it's a growing one for a Richmond entrepreneur.
Doug Kline started his art reproduction company, Museum Masterworks, in 2006 after 18 years with Glassmasters, a company that reproduced stained glass for museums.
"It was owned by my father," Kline said. "He bought it in 1985 and sold it in 1991 and
I stayed with it after he sold it."
Kline also worked with Stonemasters, the sister company that made sculpture reproductions.
Both companies went out of business in 2005, but Kline decided to stay in the industry.
"I knew a lot of the museum buyers, and it was something I really enjoyed," he said.
Museum Masterworks makes reproductions of sculptures and statues for museums, libraries and other cultural institutions. The company produces miniature models that can be sold at gift shops and others that are replicas for display.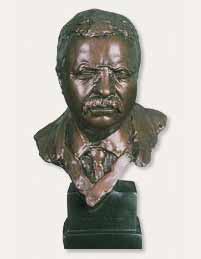 The company works with several casting and finishing facilities across the United States and overseas.
"Nothing is mass-produced. It's all hand-cast and hand-finished," Kline said.
The company has four employees along with 12 to 15 freelance artists who make the reproductions.
Kline said the cost of a sculpture depends on the size, complexity, artist and how long it takes to make. Prices run from $30 to $500.
Kline said the most popular reproductions he sells are Picasso's Chicago sculpture, the Wedding Rings by Peter Lipman-Wulf and Degas's dancer. The company sold 500 of the Picasso sculptures last year and most recently sold 75 of the Picasso sculpture to the Virginia Museum of Fine Arts.
He added that almost any sculpture of a president sells well and that his most popular are Abraham Lincoln, Theodore Roosevelt and Thomas Jefferson.
"Presidential sculptures are a staple," he said. "We sell to almost every major presidential library."
Doris Delk, senior retail officer for the Virginia Historical Society, said they have a long relationship with Kline.
"We've been working with him for a number of years, and we just worked with him on the reproduction of our war horse that's at the front of the building," Delk said.
The statue is a 10-inch-tall bronze horse that commemorates horses that died in the Civil War. Paul Mellon, philanthropist and co-heir of Pennsylvania-based Mellon Bank, donated the original, which sits at the front of the Virginia Historical Society on North Boulevard.
"It's our signature statue, and I wanted a replica of that piece," Delk said.
The reproduction of the War Horse retails for $295 in the Virginia Historical Society shop.
Delk says there aren't many companies in the area that do custom-reproduced work for museums.
"There are very few companies that do recreate replicas of original statues," she said. "I work with several others and have bought things from them, but nothing that's [made] exclusive to us."
The company has grown steadily in the past year. Kline said they sold 5,552 sculptures last year and saw a 73 percent growth in sales last year over 2009.
Besides sculptures, Museum Masterworks also produces educational and puzzle books for museum stores and libraries.
"I started the publishing side of the business a little over a year ago, and that's been growing rapidly," Kline said.
The books are usually crossword puzzles or activity books for kids that focus on educational topics. Kline said he's expecting to complete another six to 10 books this year, including a book about Virginia history to sell to local schools.