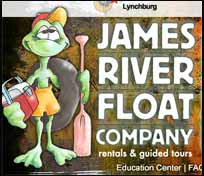 A Lynchburg outfitter is floating its business down the James River to Richmond.
James River Float Company, which offers guided canoe, tubing, kayak and bateau trips on the James, opened its second operation in Powhatan on Wednesday.
The company has leased space in Powhatan County at the intersection of Route 522 and Route 60 for putting in and taking out the boats.
"We'd been feeling out the market. We needed a place closer to Richmond," said owner Mason Basten.
Last July, on a kayaking trip to Richmond, Basten found a spot for a second location.
"By luck, we came across our landowner who we lease our canoe takeout from," he said. That landowner had been a friend of Basten's family for years, and Basten mentioned his idea for a Richmond location. The two struck an agreement for him to lease space there.
Over the summer, Basten and a few others started testing the river to see whether what they do in Lynchburg could work here.
"It had to be something that the majority of people could do," Basten said. "From beginner all the way up."
The company will compete with a few other outfitters already here, including Riverside Outfitters.
Basten, 32, has been whitewater rafting since he was 14 and started the business after working a couple of years as a safety boat and raft guide while he attended college at Shenandoah University.
"I've been on the river my entire life," Basten said.
After a six-year run working at car dealerships after college, Basten decided to trade in the business suit for a swimsuit and start his own river guide business. The company has a 1,500-square-foot facility where they house the tubes, canoes, kayaks and other water equipment to rent.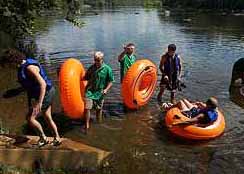 Tubing is the most popular activity at the Lynchburg spot. Basten said the company sees about 150 to 200 people every weekend.
"The tube trip down here [to Richmond] will be unique to anything in the country," Basten said.
Basten said business has been going well for them so it made sense to have a second operation here.
"Since the first year, we've seen a 150 percent increase in our business," he said. "After mid-June, it gets pretty wild. Holidays and weekends we're the busiest."
Basten has a staff of about six helping him run the Lynchburg shop. He plans to bring on eight people to staff the Richmond location.
They plan to add on a retail section and other services once things take off.
"Eventually will do the clinics and the same stuff we're doing in Lynchburg," Basten said.
"I think people in this region will respond the same as they as Lynchburg, they'll embrace it," he said.