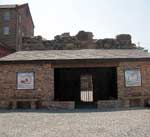 Two Petersburg nonprofits just finished the first phase of renovating a historic indoor marketplace and Civil War prison into a modern tourist attraction.
The Petersburg Foundation and the Historic Petersburg Foundation are putting about $120,000 into the restoration of the 300-year-old Peter Jones Trading Station.
"We're going to use it as a tourist attraction and outdoor museum to tell the transportation history of Petersburg," said Rob White, president of the Historic Petersburg Foundation.
The Peter Jones Trading Station, which sits at the corner of North Market Street and Grove Avenue, is believed to have been built in the late 1600s or early 1700s and was used to store trade goods imported from Europe. It was also used as a prison during the Civil War to hold Confederate soldiers.
About two-thirds of the stone walls and a chimney with two fireplaces are still standing. The rest of the building was destroyed by a fire in 1980.
"All we know that was here was a structure and debris," he said. "It was surrounded by rubble."
Petersburg resident Jim Ryan donated what was left of the site to the HPF in 1995.
The idea to transform the site came about a year ago from Bill Patton, president of the Petersburg Foundation.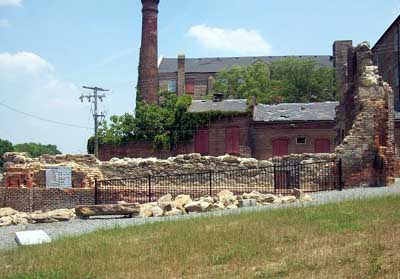 "He approached us and suggested we partner to stabilize the structure so it wouldn't suffer any additional deterioration," White said.
Work began around September of last year, and the first restoration phase was completed a few weeks ago.
"The stone structure was left the way it was. We just modified it so people could visit and see it," White said.
The HPF reconstructed a kitchen structure and added concrete footings and metal bars where windows used to be. A mural depicting a boat on the water was attached to the front of the site. A gravel path and benches were also added.
"Most of the second phase will be to improve the lighting inside the ruins," he added.
The outside of the site is illuminated at night.
The HPF plans to add artifacts and other exhibits, which will be the main attraction for people to come and take unguided tours.
"We'll have historic cannon, a bateau and other transportation artifacts," White said.
Besides a visitation site, White said they also plan to use it for special events such as weddings, school field trips and concerts, and as a site for guest speakers.
"Petersburg already has a natural draw," he said. "We just want to expand and enhance the venues for people to visit."