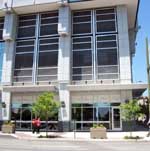 A former hotel manager is bringing a taste of Paris to the corner of 10th and Canal streets in Richmond.
Ali Benhamed will open La Parisienne Bistro and Café on the ground floor of the Williams Mullen building next month.
Benhamed, 42, is from Paris and learned how to run a restaurant from his parents.
"I worked in their restaurant," Benhamed said. "It's been a dream of mine, and I'm finally getting it together."
La Parisienne Bistro and Café will be a breakfast and lunch spot with French cuisine.
"It will be authentic French food and very similar taste to a café or place you would see in Paris," he said.
Benhamed moved to the United States in 1994 and bounced around from New York to North Carolina, working as a general manager for a few hotel chains for hotel management company MeriStar Hotels and Resorts.
He moved to Richmond in summer 2000 after his wife took a job as an anesthesiologist at Henrico Doctors.
After about a month in the local hospitality industry, Benhamed decided to launch his first entrepreneurial venture.
"I started a staffing company called Sterling America Incorporated, which placed international students in jobs in the hospitality industry," he said.
"We had students from Europe, Asia and India," he said. "We would set them up in entry-level positions."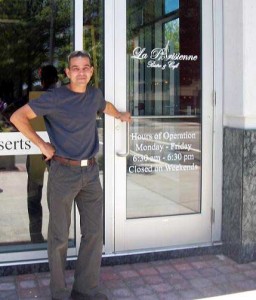 Benhamed closed the business in 2008 and spent the next year and a half as a stay-at-home dad. He also started planning his next business move, a bakery in the West End.
"The original concept was a pastry shop," Benhamed said. "There was a need out there, and I thought it would be the perfect match for me."
But after running into problems finding a French pastry chef, he decided to scratch the idea and open a French restaurant.
He began scouting locations last fall and heard about an empty space in the Williams Mullen building.
"My realtor showed me this place downtown, and I fell in love with the space," he said.
About that same time, he also brought on the former executive chef of The Westin in Richmond – who is originally from Belgium – to be his new head chef.
"He's getting back to his passion," Benhamed said. "It's nice to have somebody that understands the concept and what I was doing with it."
Benhamed is keeping menu specifics secret until the early-July opening, but he said the bistro would serve salads, soups, sandwiches and desserts. The breakfast menu will consist of omelettes, crepes, croissants and other items.
There will also be a display case with baked goods for purchase.
Benhamed said he's hoping his restaurant will attract many of the residents and business professionals that work in the area.
"About 20,000 people work within five blocks from here. That will be more than we need," he said.
Once he starts bringing customers in, Benhamed said, he's going to start offering live music.
"I'm looking at having a local jazz band on Thursdays and extending the hours," he said.
The restaurant will seat about 59 people, but Benhamed plans to add on a small patio for outside dining.