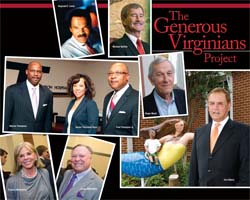 Prominent Richmonders gave almost $30 million to nonprofits and other organizations last year, according to the Generous Virginians Project, an annual report recently released by Virginia Business magazine.
The magazine contacted 260 companies, 100 families and more than 225 nonprofit organizations to provide their top 15 donations of at least $25,000 since January 2010.
The lists were broken up into five categories: donations made by individual and family foundations; total corporate donations; donations made by companies and corporate foundations; grants by community foundations; and donations by independent foundation groups.
The biggest donations from Richmonders included $17 million to Virginia Tech from the estate of Robert Hord Jr., $6 million to the Virginia Historical Society from the estate of Lora M. Robins, $1.5 million to Randolph-Macon College from Carol Estes-Williams and Clarence G. Williams Jr. and $1.27 million from the Pauley Family Foundation to the MCV Foundation.
VCU was the top local recipient thanks to a $25 million donation from James W. and Frances G. McGlothlin of Bristol, Va.
Six Richmond corporations made the total corporate donations list of $1 million or more.
Altria Group led local corporations with $12.14 million in total donations last year, according to the list.
Other local companies that made big-ticket donations included:
Dominion Resources: $8.62 million
Verizon Virginia: $3.7 million
Genworth Financial: $1.8 million
MeadWestvaco Corp: $1.78 million
Anthem Blue Cross Blue Shield: $1.67 million
Nine Richmond companies were on the list for individual donations. Altria Group made the largest single donation among those companies with a $2.8 million donation to the University of Virginia.
Dominion Resources donated $500,000 to the Virginia Museum of Fine Arts.
The Community Foundation Serving Richmond and Central Virginia made the top of the grants list with a $3.3 million donation to the University of Virginia.
Notable donations by local independent foundations included $1 million to the Virginia Historical Society from the William B. Thalhimer Jr. Fund of the Community Foundation.
See the full lists of individual and corporate donors here.