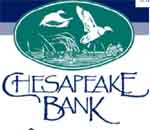 For the third time in recent weeks, an out-of-town community bank has said it wants to compete in Richmond.
Chesapeake Bank, a $600 million institution headquartered in Kilmarnock, has hired the former CEO of a Midlothian bank to lead its first local office.
Chesapeake Bank will enter the Richmond market gradually, according to CEO Jeff Szyperski. It likely will make its first move in August by opening a loan production office.
"Richmond is too big for us to make a major splash," Szyperski said. "We'll enter very modestly."
The bank hasn't found a location for its first Richmond office, but it has found the banker it wants to lead its efforts here.
Frank Bell, the former CEO of Bank of Virginia, will head Chesapeake Bank's Richmond operations, according to Szyperski.
"We sort of sought him out," Szyperski said of Bell. "I knew his situation up there and had been following that."
Bell led Bank of Virginia until December, when a group of investors bought a majority stake and brought in a new management team. Bell was made vice chairman but resigned in April.
Bell did not return a message left last week.
Chesapeake Bank won't be the only new non-local bank trying to make a go of it in Richmond. It will join Christiansburg-based StellarOne Bank and Northern Virginia-based Middleburg Bank, both of which have plans to open their first branches locally.
Chesapeake Bank, which is owned by a public parent company, Chesapeake Financial Shares, has 210 employees and will look to hire about three in Richmond to start.
It has 11 branches across the Middle Peninsula, Northern Neck and Williamsburg and will likely look to open a full-fledged Richmond down the road.
Szyperski said his bank wants a slice of Richmond's small-business lending market.
The company also has wealth management and merchant-processing divisions that it thinks can find business in Richmond.
"It does not take very much for us to be satisfied," in terms of market share, he said. "We'll take it one step at a time and see where it takes us."
Michael Schwartz covers banking for BizSense. Please send news tips to [email protected].