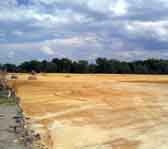 An Indiana-based student housing developer is staking its claim in the Richmond market with a $22.4 million apartment complex.
Trinitas Ventures has begun work on an 11-acre plot on Chamberlayne Avenue just across Interstate 95 from Jackson Ward.
Travis Vencel, head of planning and acquisitions for the firm, said Trinitas had been working on the deal for a year.
"We've been looking for some time in Richmond for the right place," Vencel said.

The project, called the Collegiate, consists of six multifamily buildings with a total of 270 one-, two-, three- and four-bedroom units. The complex will have a clubhouse and a swimming pool. The units will be fully furnished, Vencel said. A shuttle will offer transportation for residents to Virginia Commonwealth University, which is about half a mile away.
Indiana-based construction firm Vizor-Alderson is the general contractor.
Vencel said the project is funded by a combination of traditional bank financing and the firm's equity partners.
Vencel said his company is opening a leasing office on Broad Street in the next few weeks, during which time they will also finalize the rental rates. The project is slated to be completed in August 2012.
Trinitas isn't the first group to take a crack at developing the land.
"It had been under contract by another group. They fell away, and we swooped in and redesigned and redefined the project," Vencel said.
That other group was working with Justin French, who is now serving 16 years in prison for tax credit fraud. French had acquired the property, which was previously a trailer park, and also had planned student housing there.
Trinitas bought the land from an LLC controlled by French for $2.6 million this year, with proceeds being surrendered to the U.S. Attorney for restitution purposes.