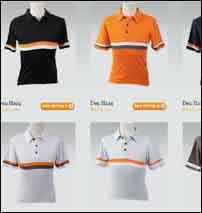 Fed up with skin-tight fabric and loud colors, two childhood friends from Richmond launched a clothing company to bring style back to cycling.
Jonathan Schneider and Richard Grossman, both 40, started Road Holland in 2009 and began selling their own line of cycling jerseys in August.
"When I first started cycling, there was nothing I really wanted to buy," Schneider said. "Looking at the apparel, there was nothing attractive. It was all cheaply made, and the sizing was all off. It was kind of ridiculous."
As a professional market researcher, Schneider said he had stumbled upon a gaping hole in the marketplace. So he began designing his ideal jersey.
He consulted with some acquaintances who had previously worked for S&K Menswear. They put him in touch with a production facility in China, which manufactured the company's first batch of inventory.
Joining him in his venture was his cycling buddy Richard Grossman, whom he had known since second grade at the Collegiate School.
Schneider said the duo self-funded their startup costs but wouldn't say how much.
"It was considerable" Schneider said.
Road Holland ships its jerseys, which start at $120, all over the world, with orders from the U.K., Germany and Switzerland coming behind those from the United States. Most of Road Holland's sales are through its website. The company has made the product available to a handful of retail stores. The company also sells jerseys at cycling events when they can.
Schneider said the number of jerseys they have sold is in the thousands.
"I can't give specific figures, but we are doing better than we expected," Schneider said.
For its latest line of jerseys, which started shipping this month, Road Holland has shifted production to a facility in Miami. Schneider lives nearby in Palm Beach Gardens.
Schneider said domestic production allows them to order inventory in smaller batches. Ordering from China requires a large minimum run.
"It is a little bit more economical to do it in Miami. We don't have to travel to Asia, there is not a big duty and the terms are a lot more flexible," Schneider said.
While Schneider oversees production and design from Florida, Grossman handles the financial and marketing aspects of the business from Richmond.
Grossman, who runs a small lobbying firm in Richmond, said he jumped at the idea to go into business with Schneider.
"I remember him saying to me, 'A lot of people are telling me why I can't do this. I really need you to tell me why I can,'" Grossman said.
"I look at it as turning my hobby into a job," Grossman said.