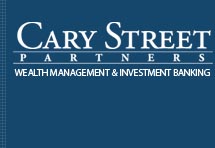 A Shockoe Slip-based financial firm is spreading its tentacles deeper into the South.
Cary Street Partners, a local investment banking and wealth management firm, has opened an office in Johnson City, Tenn., its second new location in recent months and eighth overall.
Located in Northeast Tennessee, the new location will focus on building Cary Street Partners' wealth management division.
The firm made the move after it was able to lure a team from another firm in Johnson City to join the Cary Street fold.

Maureen A. MacIver will act as managing director of the new office. MacIver came over from First Tennessee Brokerage after the firm announced it was shutting down its division in Johnson City.
MacIver is the lone new employee at the new office, although some of her former co-workers might follow, according to Tom Tullidge, one of the founders of Cary Street Partners.
"She's the first one to come across," Tullidge said. "The final number — we're still figuring that out."
In April, Cary Street Partners brought a group of wealth managers from another firm into the fold to open a Charlotte office.
In addition to its headquarters in Richmond and the new locations in Charlotte and Johnson City, the firm has offices in Abingdon, Va., Atlanta, Fredericksburg, Greensboro and Wytheville, Va. It was founded in 2002 and has about 60 employees.
Tom Tullidge, one of the founders of Cary Street Partners, said the company's wealth management division manages about $1.5 billion.
And the firm isn't done looking for new locations.
"We're continuing to look for great people that want to do great things for their clients," Tullidge said.
Michael Schwartz is a BizSense reporter. Please send news tips to [email protected].