The lazy days of tubing down the James are so 2010. An avid whitewater rafting guide and his wife have launched their own company to get Richmonders on their feet.
In January, Bryan Smith and wife Camille launched Black Dog Paddle, a Chesterfield-based company that offers stand-up paddleboard lessons, paddleboard rentals and environmental tours.
Water sports have been popping up all over Richmond. Tubing company James River Float brought their Lynchburg outfitter here in early June.
But Black Dog is one the first companies in the area to offer the increasingly popular sport of stand-up paddleboarding.
The boards, which are wider and lighter than surfboards, cost between $800 and $1,800. Paddles start at $80 and can cost hundreds of dollars.
Smith, 38, has always had a passion for water sports.
"I was born and raised in Richmond, and I grew up around the river," Smith said.
In 1994, while at the University of Richmond, he took a kayaking class and found his calling. He worked as a guide for Richmond Raft and for a raft company in West Virginia after graduation.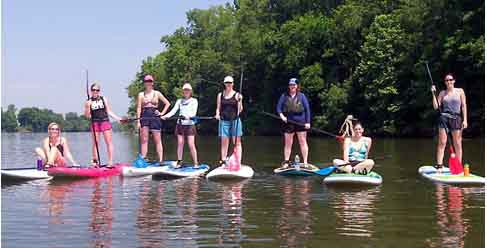 "I was working on rafts and teaching canoe classes," he said.
He became certifed to teach whitewater kayaking by the American Canoe Association while in West Virginia. He resurfaced in Richmond to take a job as a manager at Peak Experience when it opened in 1996.
Bryan's wife, who earned her stand-up paddle certification in Florida, got him into the sport a couple of years ago.
"We took it up as a very focused hobby every weekend," he said. "It's a cross between sea kayaking, canoeing and surfing all in one vessel."
After getting a feel for the sport and with 16 years of instructional background under his belt, Smith got the idea last year to turn his hobby into a livelihood.
"SUP [stand-up paddleboarding] is growing so fast," he said. "I did some research and realized … there's a pretty good market here for paddling around on a lake."
The two teach most of the classes together. They have basic all the way up to advanced paddleboarding classes for $69 for three hours.
"We give them a general overview and educate them and then get them in the water," he said.
They also offer $15 fitness classes, which are for more advanced water sports enthusiasts and include yoga and other exercises on the paddleboard.
Most classes are done at Robious Landing in Chesterfield, but they also teach lessons at Dutch Gap and the Swift Creek Reservoir.
He added that many people have the idea that it's as simple as getting in the water and standing up on a board.
"It's not that hard, but it takes some technique," he said.
Besides lessons, Smith and his wife also offer eco-tours and eco-trips that give people a chance to paddle all over Central Virginia.
"We go to Rocketts, Swift Creek, Lake Chesdin, Mathews County and other water areas."
For the more adventurous, the company offers paddleboard rentals for $15 an hour if they've taken their basic class.
"We want people to be safe," he said. "There's a lot of technique involved."
Smith said the sales side of the business is still growing, but they're working with Appomattox River Company so people can purchase paddleboards through their website.
Richmond isn't the only area that's cashing in on the rapidly growing sport. Companies across the state such as Stand up PaddleBoard DC, Chesapeake Boardsports, Potomac Paddlesports and Tula Adventure Sports in Virginia Beach all cater to the stand-up paddling crowd.
Bryan and Camille are both doing this on the side from their full-time jobs. Bryan works for a local homebuilder and Camille works as a program coordinator in the Neurology Department at MCV.
"This is our passion, so eventually we want to do this full time," Smith said.