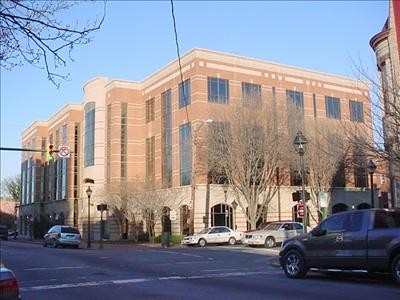 A major Richmond nonprofit has picked up a vacant office building in Jackson Ward as a second location and will start moving some employees there this fall.
The United Network for Organ Sharing purchased Jackson Center, a 51,000-square-foot office building at 501 N. Second St., for $2.5 million. The deal closed June 30.
UNOS, which has a federal contract to match organ donors with transplant recipients nationwide, has outgrown its headquarters in the Virginia Biotechnology Research Park.
"We are just bursting at the seams here at our headquarters," said Lisa Schaffner, spokesperson for UNOS.
Jackson Center has been vacant for a couple of years and was previously home to the Virginia Department of Housing and Community Development.
Schaffner said the building would require only minor renovations.
Schaffner said that it is still being determined whether UNOS will occupy the entire building but that they would move 40 to 50 employees there initially. The organization has about 340 employees.
Most of UNOS's growth has been in the group's IT department, Schaffner said.
"We run the nation's transplant system. Everyday we are matching organs from donors to those on the national waiting list. A lot of that function is IT-driven," Schaffner said.
The organ donation waiting list is growing, and there are presently more than 70,000 eligible people waiting for a transplant.
Mark Douglas, a broker for Cushman & Wakefield | Thalhimer, represented UNOS in the deal and said the organization considered several options before buying the Jackson Ward site.
"They looked at a bunch of properties for lease but then this building could be bought," Douglas said.
Douglas said the seller was the original developer of the building, which was built in 1992.