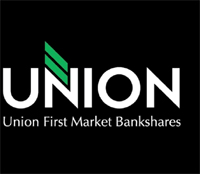 Richmond's biggest bank might soon try to raise a big pile of cash.
Union First Market Bankshares on Wednesday filed a shelf registration with the Securities and Exchange Commission, leaving open a possibility for the company to raise up to $100 million through various stock and debt offerings down the road.
The potential uses of any capital that might be raised include investing in its subsidiaries — which most prominently include Union First Market Bank — reducing existing debt and possible acquisitions.
"We have no specific plans," said Union spokesman Bill Cimino, "but [we] want to be prepared to support future growth opportunities."
Union also said in its filing that it might use any money raised to repurchase $35 million worth of preferred stock that the U.S. Treasury still holds from the former First Market Bank's participation in the TARP Capital Purchase Program. Union acquired First Market last year.
A shelf registration allows the company to conduct an offering when it feels the time is right by selling common stock, preferred stock, debt securities and other avenues.
Although the filing leaves open the possibility of bringing in new money, Union has been spending some of its cash recently.
In May, it acquired a bank branch in Harrisonburg from NewBridge Bank. As part of the deal, Union purchased $72.5 million in loans and assumed $48.7 million in deposits. The costs related to the acquisition have run close $500,000, according to its SEC filings.
Union also recently opened seven new branches inside Martin's grocery stores in the western part of Virginia.
The bank now has 99 branches across Virginia. The company had $3.8 billion in assets as of the end of the second quarter.
Michael Schwartz covers the banking beat for BizSense. Please send news tips to [email protected].