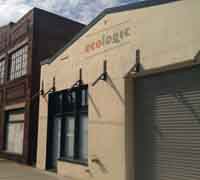 An artisan pasta business is making to make the jump from farmers markets to Main Street.
The husband and wife owners of Bombolini Pasta are moving their startup from their Lakeside basement and into a storefront on West Main Street in the Fan.
For three years, John and Lolita Kreckman have sold their freshly made pasta at farmers markets across Richmond. Ellwood Thompson's and RelayFoods also carry their pastas, and they supply some Richmond restaurants.
But the Kreckmans decided it was time to kick it up a notch.
The company recently bought the 4,500-square-foot retail building at 1600-1608 West Main St., which was most recently Ecologic, for $510,000.
"With a storefront, there is more opportunity to get our name out there," said John Kreckman.
"It's going to be good. We sell a lot at farmers markets, but they close in the wintertime," Kreckman said.
Kreckman said they currently produce 600 to 800 pounds of fresh pasta a week. A 16 oz. package retails for about $6.
"We've maximized our space and are looking to expand into different categories," Kreckman said, adding that they plan to add ravioli.
They will also sell cooked pasta with sauce for carry out.
Kreckman, 30, said he grew up in the restaurant business and graduated from culinary school. His wife learned to make pasta in 2005 while working at an Italian restaurant in Key West.
He hopes to have the new location up and running in November.
"We aren't in any rush," Kreckman said.