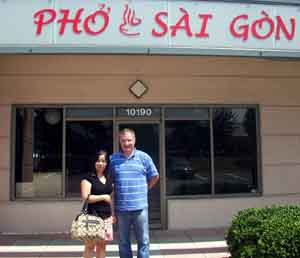 A Glen Allen couple recently left their day jobs to try to their luck in the restaurant business.
Dangminh Katsiff and Jack Peters are getting ready to open Pho Sai Gon, a Vietnamese restaurant near Innsbrook, next month. BizSense has counted a handful of Vietnamese locations popping up lately.
Katsiff and Peters leased 1,900 square feet in the Lexington Commons shopping center on West Broad Street in May, but Katsiff has been cooking up the idea for her own spot for years.
"I loved to cook and always wanted to open my own restaurant," said Katsiff, 29.
A native of southern Vietnam, Katsiff grew up learning to cook from her family and for the past few years has been making her family recipes regularly for Peters.
Peters said after trying many other Vietnamese places in the area and comparing them with her cooking he pushed her to go forward with her plans to start her own place.
"I knew she had something that was worth having in a restaurant," Peters said.
Peters, 46, has been in sales for 15 years. Katsiff has operated her own nail salon in Glen Allen for the past three years but sold it last year to begin looking for a space to open her restaurant.
Katsiff said the menu would have a mix of her family's recipes, her own specialties and traditional Vietnamese dishes.
"Pho noodle soup, stir-frys and tofu and curry dishes," she said when asked about the options.
The restaurant will also serve pig and duck and have a strong French influence, Peters said.
"You'll see a lot of flavors that you would normally see in French cuisine," he added.
Peters said they will be using many Virginia farmers and suppliers to source their produce and other ingredients.
"We've narrowed it down to a couple right now," he said. "I'm looking to go out on a daily basis to try and find the freshest produce, meats and seafood from local farmers and suppliers."
Pho Sai Gon is one of the many Vietnamese restaurants that have appeared on Richmond's restaurant scene lately.
Pho So 1, which has operated off Horspen Road for a few years, recently bought a space on West Broad to open a second location.
Pho City also opened this year not far from the couple's restaurant on West Broad in Gold's Gym Plaza.  Huynh's Restaurant, which is owned by Vietnam One, opened on West Broad in December.
Katsiff said the way her dishes are prepared would separate her from the many others around town.
"I won't have a lot of salty dishes, and it will be more a more natural, healthy-centered menu," she said.
Katsiff will serve as the head chef when they open, and Peters will be handling the day-to-day operations. They've hired three other employees to help them get started.
The two are looking to have a website up soon and be open to the public by Aug. 18.