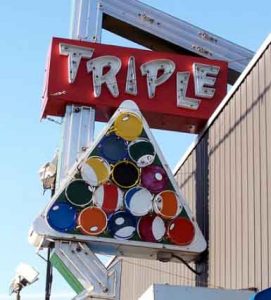 The bright neon stopped glowing at a long-standing Broad Street pool hall last month.
Tegan Stephen, the owner of the Triple and the building that housed it, is looking for a new occupant. She also closed another Richmond pub.
Stephen was an unlikely owner of such an establishment: She doesn't play pool. She bought the business more than 15 years ago with her now ex-husband, who did play.
After the marriage fell apart, Stephen continued to run the business. But her experience is a good lesson about what happens when there is little passion for the business you run.
BizSense caught up with Stephen to talk about what she has learned and what might be next for the Triple. Below is an edited transcript.
Richmond BizSense: Why did you close the Triple?
Tegan Stephen: It wasn't making any money. There wasn't any point in staying open at that point.
RBS: Why is that? Is pool not as popular as it once was?
TS: I don't think that was the problem. It was really just a matter of management. I didn't put my heart into promotion and diversifying income streams.
RBS: So you had lost interest in the business?
TS: I think I had been doing it for too long, I've managed pool halls for 27 years. Plus I don't drink, and I never picked up a ball other than to clean it.
We made it through the recession but got hit last year and both places hit a wall. I also owned the Playing Field on West Broad, which I closed in December. If I had been someone who was way into it, who played pool, I would had a lot more interest in keeping the business going.
RBS: How did you get involved with the Triple in the first place?
TS: My now ex-husband and I had bought the property. It took us about three years to renovate and open it back up. It has been open for 15 years since then.
My ex-husband was a professional pool player. We lived in D.C., and my ex and I started to come down 30 years ago and he'd play tournaments here. I would sleep in the van and read in the hotel parking lot while he played.
One day the previous owner said he was selling the place, and my ex decided he wanted it. I rode off his lifestyle. Once the marriage dissolved seven years ago I should have sold the business then.
RBS: You own the building. What do you plan to do with it?
TS: Right now it's for lease. There has been a lot of interest. Most people are interested in continuing to run it as the Triple. A lot of people want it just because of the business, sort of the bad boy reputation for what it is.
I've talked to a couple of people, one in particular that has a really great restaurant, who are not interested in the pool tables or the sign.
RBS: That sign is an icon. Has there been a lot of interest in that?
TS: I love the sign. I would like to see it stay. If whoever takes over doesn't want it, I'd consider it putting it in the hands of the Valentine Museum.
RBS: What will you do now?
TS: Right now my full-time job is showing the place to people and trying to get them to rent it.
I have some other real estate, too. Also I am an artist. I do multimedia, glass, jewelry, photography and sculpture a lot of different things.
RBS: What was the hardest part about closing the Triple?
TS: The only thing I felt bad about was the customers and the staff. Some of these people have been with me at the Playing Field and the Triple for 15 years.
It is the one thing I had a lot of regrets about, but I can only sacrifice my own self-interest for so long.