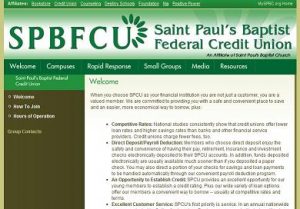 A tiny, church-based credit union has merged with a larger local competitor.
St. Paul's Baptist Federal Credit Union, which was down to assets of only $374,000, merged last month into Henrico Federal Credit Union.
According to a report from the National Credit Union Administration, Henrico FCU, which has $119 million in assets and 20,000 members, took on the assets of St.Paul's, whose membership is made up of the congregation of St. Paul's Baptist Church.
The NCUA report cited lack of sponsor support from the church as the reason for the merger.
The idea of a merger between the two institutions was first explored a few years ago, according to Susan Epperson, a spokesperson at Henrico FCU.
"Several years ago, we were interested in seeing if there were any smaller credit unions interested in merging with us," Epperson said.
St. Paul's, which has about 600 members, wasn't interested at the time.
"I guess a few years passed and they decided they want to expand what they can offer their members," Epperson said.
St. Paul's Baptist FCU was founded in 1973. It lost $28,000 in 2010 and barely broke even in the first quarter of 2011. Its asset base has been in decline since 2008.
The small institution is only open a few days a week, and its staff is all volunteers. Because of it size, it is only able to offer limited deposit products and small loans.
The much larger Henrico FCU is able to offer all types of loan and deposit products. It was founded in the 1960s and has five branches. It reported net income of $457,000 in the second quarter.
Because credit unions are not-for-profit, no money will be changed hands in the merger, Epperson said. The assets and members of St. Paul's Baptist FCU will become part of Henrico FCU.
St. Paul's members voted Sunday to approve the merger, and the deal should be finalized by Sept. 1, Epperson said.
Michael Schwartz covers financial institutions for BizSense. Please send news tips to [email protected].