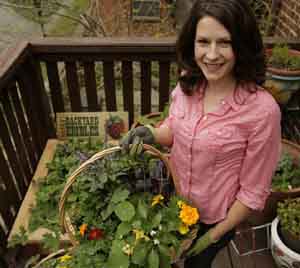 Nina Zinn is cultivating a startup to help those lacking a green thumb.
Zinn started Urban Backyard Edibles in February. She installs and designs vegetable and herb garden beds, potted herb plants and flowerbeds on residential properties.
"I teach clients how to harvest the vegetables, plant and cook with herbs," Zinn said. "I help them get started with a raised garden and also do full maintenance on a bi-weekly or weekly basis."
After a quick overview of someone's back yard or patio and depending on a person's space, she usually installs 4×4, 4×6 or 4×8 boxes to create 16-inch-deep beds.
She plants in the spring, summer and fall and typically grows tomatoes, squash, zucchini, peppers and beans in the edible gardens for local residents. She also plants and maintains flower and herb gardens.
Most of her clients ask her to come back a few times a week to weed, water and manage the gardens, Zinn said, adding that she has about 30 clients.
The whole process — from checking out a person's yard  to building the beds and planting the garden — takes two to three weeks.
Zinn said that about 80 percent of the business comes from the raised garden beds and that the potted herb plants make up the rest.
"It's targeted to middle [and] upper class," Zinn said. "Those that are working and don't have the time to do it themselves."
The cost for Zinn to install a garden varies, but she said getting three 4×4 beds could range from $800 to $1,200. She said she's also planted an edible garden for as low as $400.
The potted herb gardens typically run about $600.
Zinn, 31, grew up on a farm in Missouri.
She has a degree in landscape architecture, and for the past three years she has lived in Richmond, working for the Nature Conservancy and Wetland Restoration.
The seed for her business was planted last July while working on a community project for Friends Association for Children, a Richmond day care that needed a new playground.
"I was volunteering for them and they mentioned they'd been given money to redesign their playground," she said. "I did the landscaping and designed and installed an edible shrubs playground."
The idea to turn her knowledge of greens into some financial green stemmed from there.
"That's my passion: teaching children and the community about eating healthier food," she said. "I still wanted to do these community projects, but make a career out of it."
Zinn isn't the first to try a local gardening business. Last June, Shane Emmett and Ivan Fehrenbach started United States of Food, a garden installation company based in New Kent County.
Last November, Zinn started looking into the idea, and after three months of planning, research and shelling out $5,000 for tools, advertising and a website, Urban Backyard was up and running.
And to keep her startup growing, Zinn is hoping to get her hands on some extra seed capital.
"I'm looking for an angel investor to help jump-start [the business] in the first year to be able to do more," she said.
Zinn is looking to branch out to nursing homes, schools and restaurants.
"I only had three clients in March, and between March and June I did 120 estimates," she said.
Zinn said that she hasn't crunched the numbers but that revenue tripled in June compared with when she first launched.
"I have enough to pay myself, and it's turned a profit," she said. "It's paid off very well."