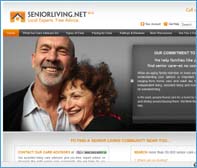 The biggest investment by a Richmond venture capital club was just sold for $4.5 million, giving the group an undisclosed return on an investment it made just 10 months ago.
Members of New Dominion Angels, a venture club with about 18 members in Richmond and another two dozen in Northern Virginia, was one of several investors that funded SeniorLiving.Net. The Northern Virginia web startup was acquired last week by RealPage, a company based in Texas.
New Dominion Angels members invested a combined total of more than $200,000 into SeniorLiving.Net. The sale to RealPage paid back their principal investment, plus an undisclosed return.

"There was a clear [observation] of value here from the outset, both in terms of the business idea and CEO Todd Walrath," said Mike McGinley, one of the founders of NDA. "In retrospect, we knew this was going to do really well. It was just a question of how well and how fast."
NDA can also earn stock options and more cash if SeniorLiving hits certain benchmarks over the next few years. Because of those incentive payments, McGinley said he won't know the final rate of return until 2014.
SeniorLiving.Net is a website that helps customers find housing options for senior citizens. It is not yet profitable and has less than $1 million a year in revenue, according to a news release from RealPage.
This is the second sale of a NDA portfolio company. In 2009, government contracting job board MySBX was sold. http://govwin.com/ NDA was invested in that startup for less than a year, too.
McGinley said that the short life spans of the MySBX and SeniorLiving investments have altered the club's investment approach.
"When we got into this, we thought we'd have a few big hits with 10-times return, and we'd hold those companies five or six years," he said.
"But both of our exits have been after eight months. The return is also smaller, which is fine. … We are taking quicker exits with more certain and smaller returns, and that makes the asset class less risky."
Aaron Kremer is the BizSense editor. Please send news tips to [email protected]