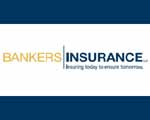 A struggling Norfolk bank sold one of its subsidiaries to a Glen Allen insurance company.

Bankers Insurance, headquartered on Cox Road in Innsbrook, paid $5.8 million in cash to acquire the assets of Gateway Insurance Services, a subsidiary of Hampton Roads Bankshares.
The deal comes as a result of a larger effort announced in June by Bank of Hampton Roads to unload a huge number of its assets, including 10 bank branches across Virginia and North Carolina and its insurance and mortgage divisions. The company wants to cut costs as it digs itself out of large losses suffered over the past couple of years.
"The deal comes from months of discussion," said Bankers Insurance CEO Marshall Fleming. "[Hampton Roads Bankshares] had determined they were going to divest themselves of their insurance operation. We went to them."
HRB will receive a 0.45 percent ownership stake in Bankers Insurance. It will join 30 other community banks that each owns a piece of the insurer.
The company, according to CEO Marshall Fleming, was founded in 2000 by 60 community banks that wanted to get into the insurance business.
It has grown to more than $270 million in annual sales — mostly through acquisitions. Bankers Insurance started off its first year by buying four insurance agencies, Fleming said. It has since acquired 14 others.
The number of banks that own a stake in the company has declined by about half. Among those that still own are Union First Market Bank, StellarOne Bank and Fulton Bank.
After the addition of Gateway Insurance's seven locations, Bankers Insurance now has 207 employees and 19 locations. The deal will give Bankers Insurance an immediate presence in Northeastern North Carolina, where Gateway has the majority of its offices.
The deal also allows HRB to share in the commissions from referrals it sends to Bankers Insurance.
With the sale of its insurance business, Bank of Hampton Roads' plan to unload certain assets is almost complete.
In July, it sold seven of its Gateway Bank branches in Eastern North Carolina to the East Carolina Bank.
In late June, it sold its Midlothian Gateway branch to Northern Virginia-based SonaBank. It will be SonaBank's first branch in the Richmond market. Gateway still has four branches in Richmond.
Just days before that deal, it sold its Charlottesville Gateway branch to the Page Valley Bank, a Luray, Va., subsidiary of Blue Ridge Bankshares.
Hampton Roads Bankshares said the branch sales would represent the divestiture of approximately $331.7 million in deposits. The company has $2.2 billion in total deposits, and the sale of these branches would shed about 15 percent of that total.
It has also shut down and consolidated several branches in Hampton Roads, most recently closing its branch at the Virginia Beach oceanfront. The company said that is the final branch closure planned.
The company had considered selling its Gateway Mortgage subsidiary but said in its second quarter earnings release that it will continue to run that business.
HRB had little choice but scale back its operations. It lost more than $210 million in 2009, $99 million in 2010 and almost $50 million through the first half of 2011.
The company has had a stake in the Richmond market since 2008, when one of its predecessors, Gateway Financial Holdings, acquired Bank of Richmond. At the time, Gateway was expanding rapidly across Hampton Roads and North Carolina. It hit the skids at the beginning of the recession from heavy losses from its Fannie Mae and Freddie Mac holdings.
Gateway sold itself in a fire sale to HRB. The Norfolk-based company has since been dealing with Gateway's baggage, which brought its non-performing assets above $200 million.
Michael Schwartz is a BizSense reporter and covers banking. Please send news tips to [email protected]