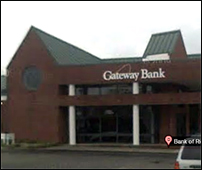 Two years into his tenure, the president and CEO of Hampton Roads Bankshares has resigned, but he's not going away empty-handed.
The Norfolk-based parent of the struggling Bank of Hampton Roads and its Richmond branches of Gateway Bank & Trust said Thursday that John "Andy" Davies resigned from his post effective Aug. 12.
Davies, who worked as a consultant to the bank before becoming CEO in 2009, will return to his consulting practice, the company said, and he'll have a soft landing on his way back to self-employment.
Upon his resignation, Davies signed a consulting agreement with HRB, whereby he'll "be retained as a consultant for one year in order to facilitate a smooth and orderly transition within the Company and the Bank and to assure access to Mr. Davies' unique and valuable services."
The agreement requires Davies to perform 1,000 hours of service in exchange for $41,667 a month for 12 months or $500,000. He also gets an additional $110,000 for promising not to compete with the bank or solicit any of its employees until Sept. 11, 2013.
Davies, a well-known longtime Virginia banker, joined HRB in 2009 as it was beginning to report massive losses related to hundreds of millions of dollars in loans going bad across the Mid-Atlantic region.
He led the company on a plan to raise capital and slash expenses, particularly by closing and selling off branches in Virginia and North Carolina.
In June, the bank sold one of its Richmond Gateway branches to a Northern Virginia Bank. Its Gateway branches control about $390 million in local deposits, according to the most recent FDIC figures.
And this month HRB sold one of its insurance subsidiaries to a Glen Allen insurance company for $5.8 million.
Davies will be replaced, at least in the interim, by Doug Glenn, HRB's general counsel and COO.