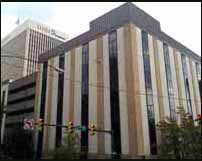 Dominion Resources has given itself some room to grow.
The Virginia-based power company just bought the office building at 111 S. Sixth St. from D.C.-based Douglas Development for $5.5 million. It is across the street from Dominion's headquarters at One James River Plaza.
Dominion spokesperson Ryan Frazier said the company is determining how it will use the space.
"We are currently developing plans for our use of the property, nothing specific yet," Frazier said.
Frazier said about 2,000 Dominion employees work in the downtown area.
The six-story, 269,097-square-feet property, called Richmond Plaza, was built in 1922.
Douglas Development acquired the property in 2007 for $11.8 million.
Norman Jemal, who is the son of company founder Douglas Jemal and head of leasing for the company, said the firm responded to Dominion's interest.
"They had been inquiring," Jemal said. "We tested the market, and it proved they were the best buyer."
Jeff Cooke and Eric Robison of Thalhimer represented Douglas Development, and Steve Gentil of Grubb & Ellis | Harrison & Bates represented Dominion.
Jemal said his firm is also selling the 3.2-acre Interbake property, a former cookie factory near the intersection of Broad and Boulevard.
"Investors and developers seem to have a very strong appetite," Jemal said.
Douglas Development bought that building in 2005. It also owns the Central National Bank building at Broad and Third streets. The company also recently renovated several smaller properties it owns along Broad.