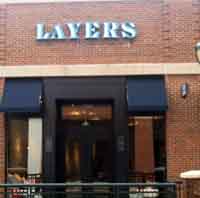 The owner of Short Pump mattress and bedding shop isn't stopping at two stores.
Gian Fazio just opened a second Layers Bed Company location Charlottesville and has his sights set on 58 more. The company manufactures mattresses in Danville, Va., and Fazio said the products would soon be available in a major department store.
Fazio, who hails from Italy, spoke with BizSense about his startup and why he's confident he can keep expanding despite intense competition and a skittish consumer. (You can read the first story here.)
Below is and edited transcript.
Richmond BizSense: How is the Short Pump store doing? What are sales like?
Gian Fazio: Short Pump is a strong location. Weekends are definitely busier than during the week. The first few months were okay, but June, July and August have been beyond our expectations. We usually do around $2,000 a day in sales. Some customers will come in and spend $3,000 in one day. I think our biggest day was last week: We brought in $10,000 in one day. We're usually selling 15 to 20 beds per month.
RBS: You just opened up a store in Charlottesville. How has the response been?
GF: We weren't sure at first if Charlottesville was a big enough city for a company like Layers, so we opened a pop-up store in May. We ran it for a few months to see how it went, but Barracks Road was just not the best place. The rent was really expensive.
Last week we opened a permanent store a couple of miles away in Rio Hill. The Charlottesville market has been really good. We definitely want to be there.
RBS: Are you looking to open more pop-up stores to test out new markets?
GF: I think it's a good way to put our toes in the water to see if it works. The task of opening a new store can be daunting, so it's a good way to feel out the market.
We couldn't do that in Manhattan, though. They do it for Fashion Week or for a weekend, but it wouldn't be long enough for us. Most of our business has been repeat business, so even if we wanted to we would have to be open for a few months to get a feel for the place.
RBS: How much did you invest into the new place?
GF: The second place is smaller then the Short Pump location, so it was less than about $30,000.
RBS: Do you have any competition near your stores?
GF:  What we do is a little bit different from everyone else. We're kind of a one-stop shop, and no one else is doing that. You know, they are a lot of other places around here like Stony Point and Regency Square, but I don't think they're any competition.
RBS: What do you think sets you apart?
GF: We have a lot of walk-ins that come in for a big purchase, and then they buy their sheets and pillows here as well. As far as the Charlottesville store, there's not that much out there. As soon as people would come in the store, they would say they had trouble finding a place to buy nice linen.
I put so much into the branding and marketing in the beginning because we wanted to open a chain. We didn't just open a store, we launched a brand.
RBS: Are you adding any new products to the stores?
GF: We were just selected by Calvin Klein and DKNY to start selling their sheets in our stores. They will be in the Short Pump and Charlottesville location in a few weeks.
We carry our own sheet collection, and they're doing really well, but we wanted to branch out to other brands. They came to visit our store and saw our branding and were very pleased with what the saw. We reached out to them about three our four weeks ago.
We were a little concerned about branching out to another brand at first, but many of our customers expressed that they were interested in this.
The Layers Bed Company products are also going to be sold in a large national chain. We're close to finalizing this. We've been speaking with these people for the last six months. There will be a Layers section in over 200 stores of the chain that will have some of our best-selling beds and four of our mattresses.
RBS: Why so much expansion so fast?
GF:  The stores are doing well, so it's the perfect time to expand. For this to make sense, we need to grow the brand. Our business plan is to have 60 locations within the next seven years. We have a clear plan. It's a little bit smaller now, but we want to get things completely right for the first couple locations.
RBS: What has been the biggest challenge as a business owner?
GF: I'm still trying to get my head around how logistics will work at the national level. We have customers wanting to buy something in New York or have it shipped somewhere, and right now we can't do that with just the one production facility. Eventually we'll have to open new warehouses.
We've had a lot of inquires through the website from people who see a product and want us to ship it to them. We're working on an e-commerce platform now that should be up and running in the next couple of months.
RBS: You were looking to expand to other areas. What's next on the agenda?
GF: There are a couple of locations that I'm looking at in Charlotte and Raleigh.
Whenever we can get a good deal on a good location, then North Carolina will most likely happen first. We're actively looking in D.C. I'm going next week to Manhattan to look at a space.
There's a good location in the Flatiron District. We'd like to open a flagship store in Manhattan. From a brand point of view, it makes sense to have something there. Within the next year, we'll be in New York.