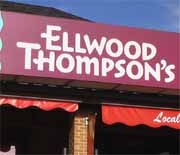 Local natural grocer Ellwood Thompson's will close its coffee shop/cafe on the other side of the parking lot from its Carytown store.
Company spokesperson Paige Bishop confirmed that Ellwood Thompson's signed a lease to take over the 4,800-square-foot former Blockbuster space next to the grocery store and will incorporate the cafe into the expansion. Ellwood's Cafe will close Sept. 8.
The expansion will also include a multipurpose room for classes and meetings, a bigger beer and wine department and more space for dine-in customers.
Equipped with a special $11,000 coffee maker, the company opened the cafe in February 2009. Also around that time, Ellwood expanded the grocery store by 4,000 square feet.
The latest expansion is expected to be complete by February 2012. Ellwood also has a store under development in Rockville, Md.