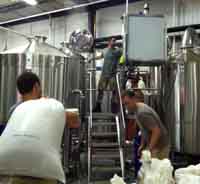 When you're in the beer business, a few cold ones for breakfast comes with the territory.
Hardywood Park Craft Brewery on Wednesday christened its first official batch of beer with an early morning toast and the ceremonial pouring of huge bags of malt into the giant mixers.
Richmonders will have to wait another month to get their hands on any bottles or pints from the city's newest local brewery.
The first beer, set to be ready in early October, will be a Belgian blonde ale. Hardywood is also working on what it calls a Wallonian-style farmhouse ale with fresh local Virginia pumpkins and spices. Although those are the technical descriptions, co-founder Eric McKay said brand names for the beers will be unveiled soon.
The first beers will be part of Hardywood's planned Reserve Series, which will feature limited quantities of a new beer every six to eight weeks.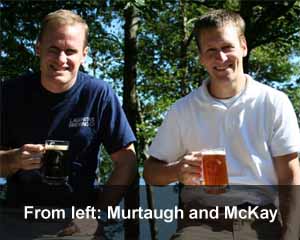 The beers will be available at local restaurants and stores and will be distributed by locally based Brown Distributing. Hardywood will focus solely on the Richmond market starting out, McKay said.
McKay and co-founder and longtime pal Patrick Murtaugh launched the company this year with the help of about $1 million from investors.
BizSense first wrote about the launch of Hardywood in February.