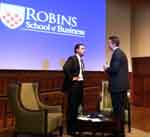 Chris Mooney doesn't like to boast about his leadership skills.
He prefers to let the performance of his group, the University of Richmond men's basketball team, do the talking.
But after some coaxing, Mooney shared a few nuggets at a forum at UR's Robins School of Business on Thursday.
"When you're going to be real demanding of people, you also have to treat them as first-class individuals on the other side," Mooney said.
The coach sat down with UR Senior Associate Dean Richard Coughlan to discuss leadership style and decision-making. The event was the first installment of the Robins School of Business C-Suite Conversations, a series of interviews conceived by Coughlan to gain insight from local leaders. The events are free and open to the public.
Coughlan had Mooney lead the crowd through the timeline of his basketball playing and coaching career, beginning with childhood in Philadelphia.
Coughlan found some dirt that Mooney used to write up basketball plays for his big brother. The venue: a Nerf hoop in the family home. Mooney's coaching attire of choice at the time: his communion robe.
"Okay – this is unscripted," Mooney said when Coughlan brought up that bit of history.
"This is your life," Coughlan said, jokingly referring to the old game show.
Mooney talked a lot about what he learned from Pete Carril, the famous coach of Princeton. Mooney played his college ball at Princeton.
And whether or not Mooney realized it, Coughlan did get the coach to impart some wisdom on how he leads and manages his groups.
"The crux of what a coach does is selecting your team, addressing your team [and] trying to instill a habit of how you're going to go about your business."
After UR's run to the Sweet 16 in the NCAA tournament in March, Mooney signed a 10-year contract that will keep him at the helm of the program through 2021. Mooney also has coached at Beaver College, now Arcadia University, and the Air Force Academy.