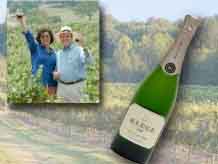 Bankrupt socialite Patricia Kluge's financial collapse has spread to Richmond.
An $8.2 million loan made to Kluge's ill-fated real estate development Vineyard Estates went up in smoke, and now two Virginia banks and the FDIC are sorting through the ashes in federal court. (To get caught up on the Kluge saga, read this neat story from Charlottesville.)
Kluge, who was once known as the wealthiest divorcee in history, had planned to compliment her wine business with upscale homes.
The story, which began in 2007, illustrates how loans that many banks thought were safe bets during boom times have gone belly-up and how too many of those hits caused Richmond-based Virginia Business Bank to fail and be taken over by regulators in July.
McLean-based Sonabank originally loaned the money to Kluge's project in mid-2007 and then shopped around pieces of the note to other banks in what is known as a participation loan.
Virginia Business Bank bit and bought a $1.07 million piece of the loan.
But by December 2008, Vineyard Estates had defaulted, according to the suit. The development entity was foreclosed on in January.
As it was careening toward failure, Virginia Business Bank sued Sonabank in Fairfax County Circuit Court in December.
VBB alleged that Sonabank was in breach of contract by not exercising care in administering the loan and by not properly notifying VBB about the default. The case became even more complicated when the FDIC took over VBB and sold off its assets, including the Kluge participation loan.
Sonabank filed a countersuit, and, because of VBB's failure, the FDIC became a party to the suit. It was therefore ordered to be moved to federal court for proper jurisdiction where the FDIC on Aug. 30 managed to get the case put on hold for at least 180 days.
David Barr, an FDIC spokesperson, said the government entity does not comment on litigation.
The attorneys representing Sonabank and VBB also would not comment.
Xenith Bank, the local bank that acquired much of VBB's assets from the FDIC, now owns the defaulted loan.
Xenith CEO Gaylon Layfield said the bank is working to collect on the loan.
"It was an asset in the process of being resolved when we bought Virginia Business Bank through the FDIC," Layfield said. "We treated it like all the other assets. We have a financial interest, and it's being resolved over time.
"It will get collected in due course."
Collecting won't be easy. Vineyard Estates has long since been foreclosed upon by Sonabank. Making matters worse, Kluge and the three others that guaranteed the loan have all filed for personal bankruptcy protection.
Michael Schwartz is a BizSense reporter. Please send news tips to [email protected].