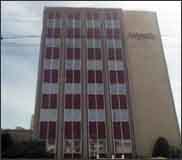 One of Richmond's most visible properties just found a buyer.
Midlothian-based Rebkee Company confirmed that it closed on the 273,000-square-foot former Wyeth plant at 1407 Cummings Drive.
The warehouse and office buildings are adjacent to Interstate 95, and logos of brands that used to be manufactured there, such as ChapStick and Robitussin, are still there for passersby to see.
That kind of exposure is one reason Rebkee decided to buy the building, according to co-founder Kevin McFadden.
"We though it was a great piece of dirt and a great property. There are 55 million cars a year that pass the site, and we thought it was a real gem," McFadden said.
McFadden declined to share the purchase price because the deal was still being recorded. The property was listed with Cushman & Wakefield | Thalhimer at the time of sale.
The building sits on 8.88 acres, and the entire property is assessed at $7 million by the City of Richmond.
McFadden said his firm will likely do some work on the property and try to find a manufacturing or research tenant.
"We are going to sit down with our real estate agents and figure out what to do next," McFadden said.
Rebkee is primarily known as a retail developer, with more than a dozen shopping centers throughout the state, including the Corner at Short Pump, which is under development.
The Wyeth property was developed in 1952 by the AH Robins pharmaceutical company, which was later acquired by American Home Products and later changed its name to Wyeth. Pfizer bought that company.
The building was put up for sale in 2008, when Wyeth decided to consolidate the office workers there to its facility at Sherwood Avenue. The manufacturing operation had already been moved to a new plant in Henrico. Pfizer later announced it would shut down the plant but struck a deal with a contract manufacturing firm to take it over and keep it running.