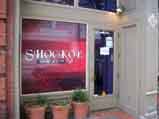 The owners of a small Shockoe Bottom bar are expanding with a new venture nearby.
Sabrina Herring and Huy "Tristan" Lee, the owners of Shotz, plan to open a restaurant/bar in Shockoe Slip in October.
Synergy, as it will be called, is under construction at 11 S. 12th St. in Shockoe Center next to the Berkeley Hotel.
Herring, 26, and Lee opened Shotz on East Main Street last August.
"We've had steady business since we opened," Herring said. "That's the advantage of having a smaller place."
Shotz is squeezed in among the many bars along East Main Street including Have A Nice Day Café, Visions and Posh.
"Our patrons are very loyal," she said. "It's doing really well."
Herring said Synergy will be an upscale dining spot for lunch and dinner as well as a nightclub.
"We'll have a comedy night and a live jazz night," she said.
She added the pair is also looking to have radio station Q94 come in and play music on the weekends.
"Thursday through Saturday, we'll have dance music," she said.
To serve this upscale menu, Herring has recruited longtime friend Melissa Underwood to be their executive chef. Underwood owns a catering business in Petersburg.
"Her mentor was [Cristeta Comerford,] the executive chef of the White House," Herring said. "She's excited to be a part of it."
Lee and Herring have room for about 50 in Shotz, but Synergy is going to be much bigger, with seating for about 65 and room for almost 200 people.
"Shotz is a lot smaller, and it's a more urban crowd," she said. "This is bigger, and we wanted to come up to the Slip to appeal to this crowd."
Herring added she's hoping Synergy will attract the older professionals and patrons from other businesses in the area.
The plan for another location has been in the works since Shotz opened, Herring said.
After looking at a couple of spots in Scott's Addition, the Fan and Shockoe Bottom this summer, the bar owners leased the 5,800-square-foot space in Shockoe Slip in August.
Herring said the former tenant, Shockoe Lounge & Grill, was evicted just a few days before they signed the lease. That business had been open about five months.
Right now, Synergy shares space in the Shockoe Center with law firms MercerTrigiani and Morris & Morris.
Lee and Herring are longtime friends, and before going into business together, they managed a few other bars in town.
The two are looking to open a third location in Richmond after they get Synergy up and running. And they don't plan on stopping there.
"We're looking at other places around Richmond to open up a large nightclub," Herring said. "The ultimate goal is hotels with nightclubs in them."
To help run the new place, the business partners are planning to hire 12 to 15 people.
They're working on getting a website launched before the opening, which will be sometime in mid- to late October.