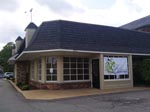 A new luxury consignment store is coming to Libbie and Patterson — for about a week.
Charlottesville-based Leftover Luxuries is returning to Richmond for the third time, showing that its pop-up business model is working well for owner Wendi Smith.
While working as an interior designer, Smith found she often had surplus furniture and decorations that she had no idea what to do with.
That is, until she came up her concept for a consignment shop that moves from city to city by opening in vacant retail spaces.
"I didn't want to have a storefront," Smith said.
Since starting in 2009, Smith has had consignment sales in eight states and averages about one sale a month. She said her goal is to have a sale in every state.
She had her first sale in Charlottesville.
"I had 20 girlfriends promise to consign something. I started with a 1,000 square feet and had the sale for two days. I was blown away with how it worked," Smith said. "Four months later, I filled 4,600 square feet for another sale in Charlottesville."
Leftover Luxuries will be open in Richmond from Oct. 14 to Oct. 23 at 5801 Patterson Ave., a 3,200-square-foot retail space previously occupied by an antique store. She is planning sales next year in Atlanta and Orange County, Calif.
The business works like this: People with items to sell register with Smith beforehand so she can approve the items. The seller sets prices, with Smith taking a standard 40 percent commission. Smith also charges a $25 registration fee for consigners.
"What makes it appealing to consigners is the way I put it together," Smith said.
Smith puts her interior design skills to work and arranges all of the items, which include furniture, upholstery, light fixtures and designer clothes and accessories, to transform the vacant space into an appealing shopping environment.
The sale runs for 10 to 12 days. Consigners have two days to pick up any unsold items.
Smith said the business has done extremely well in the current economy, because even well-to-do consumers have become thriftier.
"Consumers save a huge amount of money and can get things for their homes that are like new for 30 to 40 percent off retail," Smith said.
And there are plenty of sellers who are looking to unload expensive furnishings they might have bought when their wallets were fatter. Smith said many consigners end up becoming customers themselves.
"If someone buys a Gucci handbag and then they get tired of it, what do you do with something you spent $1,200 on? You sell it for $800, and then you can buy someone else's Louis Vuitton bag."
So far, Leftover Luxuries is a one-woman show.
"If there was 20 of me, I would be in so many other locations," Smith said.
Smith hires a few temporary workers to help her with each sale, drawing from a network of friends and family members. Ultimately, she said she would like to scale the business by training those individuals to run their own sales in different markets.
"I won't franchise. It takes a certain person to do this," Smith said. "Someone who is very personable."