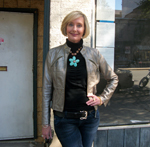 Karen Harlow has launched a startup to help messy Richmond homeowners clean up their acts.
The Richmond native started Go2Girl, a home organization and styling company, two years ago after getting laid off from her marketing job.
She goes into people's homes and businesses to reorganizes those with too much clutter or junk and to personal and professional spaces.
"I'll organize a room, or office, a garage or an entire house for someone," Harlow said.
She buys furniture and other accessories for clients and works with a few independent contractors for the bigger house jobs such as painting and moving furniture.
Right now, Harlow is working with about seven residential clients, styling and organizing their homes, but she also works with a few local real estate agencies.
"Staging is big with the real estate market," she said.
Most of her work is for staging projects, which run about $75 an hour. A home organization can cost $35 to $40 an hour, depending on what the client needs, Harlow said.
Most projects can span a couple of weeks, but Harlow said she has completed jobs in a day.
"A lot of my clients are on a budget, so I work with what they have first," she said.
Before starting Go2Girl, Harlow worked for two years as the marketing director for Atlantic Asset Management Group in Virginia Beach. She was laid off in March 2009.
Harlow said she had no desire to go back to the corporate world. And with a background as a recreational interior decorator, she thought she could start a small business.
"I've always done it on the side, helping people with their homes and doing parties," she said. "I didn't think about doing it as a career."
With a $3,000 investment for a website and some marketing materials, Harlow had Go2Girl up and running five months after getting the pink slip.
She launched her business while still in Virginia Beach but brought it to Richmond when she moved back here last July.
When she started in 2009, Harlow offered a variety of services, including home organization, staging, styling, personal shopping and event planning.
But after working with a friend who is also a local designer, Harlow restructured her plan.
"It ignited my passion and allowed me to focus on organization and home styling," she said.
Harlow also has operations in Virginia Beach and Palm Beach, which are managed by two of her friends.
The Florida Go2Girl has been up and running for more than a year, and the Virginia Beach location launched within the past nine months.
For now, Harlow runs the business out of her Bon Air home.