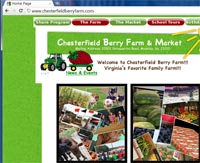 The retail arm of a Chesterfield County farm is moving closer to the people.
The Chesterfield Berry Farm Market is moving from its rural location on Route 360 in the town of Skinquarter closer to its customers in Brandermill.
Owner Aaron Goode said the market is leasing 6,000 square feet of space inside the former Safeway grocery store at the Market Square shopping center at Hull Street Road and Old Hundred Road.
"We are eventually going to be a bit larger business and carry more products," Goode said.
Goode said his brother has taken over the former market, which is now open under the name Skinquarter Farm Market.
The new Chesterfield Berry Farm Market should be open on a limited basis in November selling fruits and vegetables, as well as jellies and jams. Goode said he hopes to expand the offerings next spring to include baked goods.
The farm, which was established in 1983, attracts crowds for berry picking in the summer and pumpkin picking in the fall, but Goode said he wanted to move the retail market closer to town to be more accessible.
"It will be closer to a large population of people," Goode said. "We grow most of our products right here on the farm, and there is definitely big demand right now for locally grown produce."