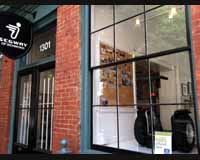 A trio of lawsuits has all but killed a local Segway dealership and forced its owner to roll quickly into a surprising new business model.
Segway of Richmond, the Shockoe Slip dealer that sells the gyroscopic two-wheeled vehicles, is going to shut down. Meanwhile, owner Buck Ward is launching Experience Richmond, a new company that will bring trolley cars back to the city.
The Segway store has been hit with three lawsuits this year by customers who claim they were injured while riding Segways on tours offered by the dealership.
The business's liability insurance kicked in to deal with the suits, but that's where the story took an unexpected turn, according to Ward, who opened the dealership three and a half years ago.
"We got hit by a freight train," he said.
Ward's insurance company dropped the company's liability policy, a must-have to be a Segway dealer. And because the three suits are dragging on, Ward couldn't find another insurer to cover his business.
"I didn't see that coming at all," Ward said. "It's basically put us out of the Segway business altogether."
Ward didn't stand flat-footed for long.
He leased his storefront to a Williamsburg-based Segway tour company that has insurance. Then last week he went to the West Coast and spent $400,000 on five old-fashioned trolley cars.
"We have to change, and we have to survive," Ward said. "Our business was killed."
The trolley cars will be the linchpin of Experience Richmond, a company Ward says will eventually offer tours of the city via trolley, scooter and bike. He will also organize whitewater rafting and kayaking on the river.
Ward's new venture will try to play off the history of the trolley car in Richmond.
The city was apparently home to the first successful electric trolley system in the country, way back in 1887, Ward said. The five trolleys he purchased are on their way to the East Coast, where they'll be converted into electric hybrids.
"So we can in fact say the electric trolley has returned to Richmond," Ward said.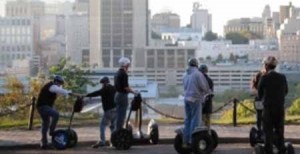 Having to step away from the Segway business wasn't an easy decision: "It was a fabulous cash cow," Ward said.
In just a little more than three years, Ward's dealership served 14,000 customers. That includes thousands of Segway tours, which made up the bulk of the company revenue. He said he sold about 100 Segways last year and has sold about 75 this year.
Ward has been in contact with prospective buyers who would take over the dealership rights and then lease the space from Ward and share it with Experience Richmond.
As for being put out of business at the hands of three personal injury cases, Ward said there is no bad blood.
"I don't have any ill feelings toward them at all. I really don't. You don't ever want to see people get hurt," said Ward. "But it's unfortunate because the business that we started on the back of a napkin is no longer."
Jim Thorsen, an attorney with Marchant, Thorsen, Honey, Baldwin and Meyer who is representing two of the plaintiffs that sued Ward's business, said the cases are pending and will likely go to trial next year.
When asked about Segway of Richmond shutting down as a result of the suits, Thorsen said it was the first he had heard of it and that he doesn't set out to put anyone out of business.
"All I know is that I have two clients that have that have serious injuries," he said.
The suits, all of which were filed in Richmond Circuit Court, describe alleged instances of the Segways lunging or lurching despite riders' attempts to control them. The incidents, which occurred in 2009, resulted in alleged injuries and related hardships to the tune of a combined $6 million.
Thorsen and his clients are battling the lawyers hired by the insurance companies that covered Ward and Segway Inc., the New Hampshire-based manufacturer of the vehicles that was also sued in each suit.